This post contains affiliate links. We earn commissions if you buy through an affiliate link with no additional cost to you. Read full disclosure here.
Testosterone does not have any relationship with lasting longer in bed. There are conflicting results from clinical trials that evaluated the testosterone levels of premature ejaculation (PE) patients and compared it with the testosterone levels of healthy men.
Testosterone is least likely to make you last longer in bed.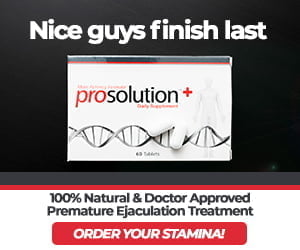 But there is a relationship between testosterone levels and premature ejaculation which is hard to understand at this point.
Keep reading to find out how testosterone levels impact PE and whether you should work on increasing or decreasing testosterone levels to last longer in bed.
What is Testosterone?
Testosterone is a hormone that's found in humans as well as animals. It is produced by testicles in males while female ovaries also produce testosterone. It is often termed a male sex hormone as it is responsible for male reproductive tissue formation such as the testes and prostate. It is also associated with muscle mass and body hair.
Testosterone plays a key role in sex drive and is responsible for sperm production. This is why it is known as male sex hormone as it makes a man look like a man due to body hair, sperm production, and testicles.
Testosterone Functions and Benefits
Testosterone performs a lot of functions in men including:
Testosterone is responsible for sex drive. Higher testosterone levels are linked with high sex drive.
It improves fertility in men. Testosterone deficiency leads to infertility in men as they fail to produce sperm.
It increases bone mass.
Testosterone plays a major role in muscle size and strength and this is a common reason why athletes take testosterone supplements to increase their strength.
It is also responsible for fat distribution.
It increases red blood cell production in males.
Testosterone levels are also linked with mood and feelings in men.
Does Testosterone Make You Last Longer in Bed?
The relationship between testosterone levels and lasting longer in bed is scientifically unclear as there are conflicting studies. There exists a relationship between testosterone and ejaculation duration, but we don't know yet whether it is positive or negative.
One of the earliest studies back in 1997 reported that PE patients have low testosterone levels.
According to a study, men who are suffering from secondary premature ejaculation have low testosterone concentration and when these patients were treated with testosterone replacement therapy, it increased their intravaginal ejaculation latency time (IELT) by 4.8x as compared to 1.8x increase in patients who were treated with dapoxetine.
It shows that increasing testosterone levels can help in overcoming secondary PE and it can significantly increase ejaculation duration in men. Eventually, they can last up to 4.8 times longer in bed.
However, there are studies that link high testosterone levels with premature ejaculation.
A 2014 study reported that PE patients have higher free testosterone than men who don't have PE. Similar results were reported in another study where higher levels of testosterone were found in premature ejaculation patients.
Another study reported that low levels of testosterone levels are linked to delay in ejaculation while higher levels of testosterone are associated with premature ejaculation.
One of the recent studies published in 2021 reported that men with lifelong premature ejaculation have higher free testosterone levels which indicates that the total testosterone level is low in these men. So, low levels of testosterone are linked with lifelong PE.
Testosterone levels are linked with ejaculation and other sexual functions in men – this is clear. However, what's unclear is whether low levels of testosterone or high levels of testosterone are linked with premature ejaculation.
Testosterone and Premature Ejaculation
Testosterone's association with premature ejaculation (both lifelong and secondary) is studied in several studies. And there is definitely a link between the two.
However, the results are conflicting.
A 2022 review study analyzed multiple studies on premature ejaculation and testosterone levels in men. The literature has both types of studies:
That link low levels of testosterone with premature ejaculation.
That link high testosterone levels with premature ejaculation.
The results are conflicting and here is what the authors suggested:
"It is clear that there are conflicting results regarding the relationship between testosterone and PE. Therefore, we believe that more comprehensive studies are needed to better elucidate the relationship between testosterone and PE."
Editorial comments on a study that linked low testosterone levels with premature ejaculation highlighted several points and cited multiple studies and the editors made the following remarks:
"The existence of a more complex and indirect relationship between testosterone level and ejaculatory control. This is an area of knowledge that needs more robust studies and represents a great opportunity for good researchers."
It clearly shows the level of unclarity as one study proves a positive relationship between testosterone levels and PE while another study posits a negative relationship between the two.
Premature ejaculation doesn't always exist alone. It usually occurs with erectile dysfunction and low sex desire (libido). In cases where PE and low sex desire occur at the same time, we believe that it is due to low testosterone levels. This is confirmed by multiple studies as discussed above.
Low testosterone levels lead to low libido and low sex desire. It makes sense that when you have little desire to indulge in sexual activity, you might find it hard to last longer and are more likely to orgasm quickly.
In cases where low sex desire is the cause of premature ejaculation, increasing testosterone levels might be helpful.
On the other hand, if premature ejaculation is inherited or has some other cause, testosterone levels might not play a key role.
Overall, PE is associated with testosterone levels but we don't have a true picture at this time due to lack of scientific clarity.
Testosterone Alternatives to Last Longer in Bed
Increasing or decreasing testosterone levels, artificially or naturally, might not help you much with PE and it is least likely to make you last longer in bed.
Here are better and more effective ways to last longer in bed:
1. Male Genital Desensitizers
One of the best – and easiest – ways to last longer in bed is via male genital desensitizers. These topical numbing products that are applied to your penis a few minutes before sexual intercourse. These products come in different forms such as sprays, wipes, creams and gels, and condoms.
Genital numbing products contain a topical anesthetic such as benzocaine or lidocaine that reduces the sensitivity of your penis which delays the ejaculatory reflex and helps you last longer in bed.
The best thing about male genital desensitizers is that they work instantly. A typical numbing product needs to be applied 5-15 minutes before intercourse to your penis and its effect lasts up to an hour.
Learn more about male desensitizing products in this article.
Quick recommendation: Try VigRX Delay Spray risk-free as it comes with a 67-day money-back guarantee. It contains benzocaine along with herbal ingredients to help you delay climax and last longer. It has minimal side effects and it works in under 10 minutes. Learn more about VigRX Delay Spray here.
2. Herbal Supplements
If you prefer taking tablets and herbal over-the-counter supplements to delay ejaculation, you should try herbal supplements for premature ejaculation.
Since these are herbal tablets, they are safe and have no severe side effects. You can take pills as directed and there is no need to apply anything to your penis before intercourse. You can have sex the way you like without any mess.
Learn more about herbal pills for PE in this article.
Quick recommendation: Try ProSolution Plus as it is scientifically proven to increase ejaculation duration by 64%. A study reported that men who took ProSolution Plus tablets for 60 days had their premature ejaculation improved by 64% and overall sexual satisfaction increased by 78%. The participants didn't report any side effects. It is the only clinically tested herbal pill to last longer in bed. Learn more about ProSolution Plus here.
3. Therapies
If you have been diagnosed with premature ejaculation and you don't want to use any product on your genitals and don't want to use herbal or prescription medicine, you should give a try to therapies and counseling sessions.
There are multiple ways that can help you manage PE and last longer in bed. These include:
Counseling sessions with an expert
These methods require intervention from an expert so you need to consult a medical expert preferably a sexologist to discuss your issue. If you need help with meditation or hypnosis, consult relevant experts in your area and they will guide you on how to deal with premature ejaculation.
4. Home Remedies
A lot of men like sticking with home remedies to last longer in bed. This is because they find these techniques less risky and cost-effective. For some men, it is easier for them to deal with their issues at home without discussing them with someone else.
There are a lot of home remedies you can try to treat PE. For example, you can use certain foods that are rich in magnesium, zinc, and folate like almonds and watermelons as these nutrients are exceptionally helpful for making men last longer in bed.
Want to know the complete list of home remedies?
Check out this detailed guide on home remedies to last longer in bed.
5. Exercise
Did you know that there are a lot of exercises and behavioral techniques that can help you delay orgasm and last longer in bed?
For example, breathing exercise and squeeze technique are quite helpful in controlling ejaculation.
Squeeze technique is a scientifically proven method to last as long in bed as you like. Learn the complete squeeze method to last longer here.
Learn about 10 exercises and techniques to last longer in bed by holding your come here.
Final Words
Testosterone and premature ejaculation are scientifically linked with one another. The relationship is quite complex and we do not know yet how testosterone levels impact ejaculation duration. There are multiple studies that have established and proven a positive link while there are several other studies that have established a negative relationship through clinical trials.
So, the question does testosterone make you last longer in bed has no definite answer.
Testosterone may or may not help you last longer in bed. And since it needs more research and clinical trials, it is best to avoid using testosterone for the treatment or management of PE.
You have several other scientifically proven methods to last longer in bed and manage premature ejaculation. Use them and stay safe.