This post contains affiliate links. We earn commissions if you buy through an affiliate link with no additional cost to you. Read full disclosure here.
Yes, hypnotherapy works for premature ejaculation. Hypnosis can help you manage premature ejaculation with no side effects.
Premature ejaculation hypnosis is quite helpful and has been used for years. Not just premature ejaculation (PE), but hypnotherapy can help in the management of multiple sexual disorders.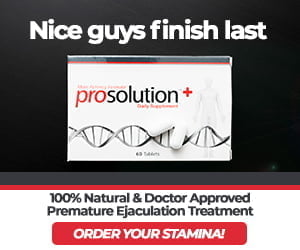 Hypnosis might not cure all types of PE and it works best when used with another treatment method.
We have addressed pinning questions related to premature ejaculation hypnosis in this guide including:
What is premature ejaculation hypnosis? How does hypnotherapy for premature ejaculation work? What does science say? How effective is it? Will hypnosis cure premature ejaculation? What are the alternatives to hypnotherapy for PE?
Let's roll and explore the world of hypnotherapy for PE.
What is Hypnotherapy?
Hypnotherapy (also known as hypnosis) is a type of medical procedure that's used to assist in the treatment of multiple medical and psychological disorders. Hypnosis is a state where a person's attention and focus are moved inwards (experiences, feelings, thoughts, cognition, etc.) instead of the immediate environment.
It is a state of consciousness but the focus moves to inner feelings and this is the reason it's known as a trance-like state. When you are hypnotized, you can focus on internal organs, emotions, and pretty much anything.
Hypnotherapy is not a medical procedure and it does not treat any medical condition. Rather, it is used to assist and is often used along with other medical treatments by an expert hypnotist (or hypnotherapist).
The hypnotherapist guides the process and helps you explore yourself from the inside. And this helps alter and even remove unconscious thoughts that drive your behavior or are causing an issue.
Hypnosis is normally used in the treatment of stress, anxiety, behavioral issues, panic attacks, and different types of phobias.
Hypnotherapy for Premature Ejaculation
Premature ejaculation is a sexual dysfunction where men ejaculate too early and even before they want to during sexual intercourse. Since stress, anxiety, trauma, and depression are common causes of secondary premature ejaculation, hypnosis seems to be a decent (and new) way to help men overcome premature ejaculation.
Behavioral therapies and techniques and therapies have been used for years to cure PE. Hypnosis for the treatment of sexual dysfunction isn't new either.
A 1980 study identified 5 strategies to use hypnosis in sex therapy. These include:
Hypnosis as a diagnostic tool for sex disorders
Improve self-confidence
Adjunct to behavior therapy
Direct removal of symptoms
Assist in the resolution of cognitive conflicts.
The study concluded that hypnosis for sexual dysfunction is an encouraging method.
A 2011 study evaluated 3 different cases where sexual disorders were treated with the help of hypnosis and behavior therapy. A 30-year-old premature ejaculation patient was treated successfully with the help of hypnosis. It took 7 sessions to help the young lad overcome PE. The authors concluded that hypnosis is helpful in helping patients overcome their sexual anxieties, traumas, bad experiences, and sex-related stress.
Hypnosis for premature ejaculation isn't new and has been used for decades – mostly successfully.
How Premature Ejaculation Hypnosis Works?
Hypnosis is driven by an expert (e.g., a sex therapist or hypnotherapist). The procedure varies from patient to patient and depends on numerous variables.
Here is a basic overview of how premature ejaculation hypnosis work and what to expect from a session:
You will dive deep into your thoughts and subconscious
You will explore your feelings and emotions including sexual experiences and several life events
The therapist will ask multiple questions throughout the session to help you find and fix memories, thoughts, loopholes, fears, etc.
You will undergo multiple sessions with your therapist as part of the therapeutic process.
The hypnotherapist will try to do the following:
Identify the underlying behavioral and/or cognitive cause of premature ejaculation
Modify or completely remove the cause depending on its nature
Improve your visual imagery capabilities
Help you overcome ejaculation-related issues.
There is one thing that's sure about hypnosis for premature ejaculation and that is: You have to be honest with the therapist. Because you will dive deep into the buried secrets and thoughts that you haven't touched for years.
If you are not OK opening up from inside in front of a hypnotherapist, hypnosis might not work for you.
It is a recommended method for those who are ready to face their internal fears and anxieties and share them with an expert.
Can Hypnosis Cure Premature Ejaculation?
Yes, it can. Depending on the type of PE and its cause, hypnosis can be quite helpful in its management and you can get back to your better-than-normal sexual life after hypnotherapy.
Hypnosis is a proven method that is helpful in treating premature ejaculation successfully without any side effects. There are certain PE cases that can be addressed completely with hypnosis while in other cases, it can be of help at some level without treating it fully.
Normally, hypnotherapy is used with other treatment methods to cure PE. A review study analyzed the efficacy of behavioral therapies on the management of premature ejaculation and reported that behavioral therapies work best when they are combined with drug treatments. The effectiveness of drug treatments increases significantly when they are used with behavioral therapies.
Another study reported that hypnotherapy is a rapid and cost-effective treatment for sexual disorders including premature ejaculation. The best results can be achieved when hypnotherapists use a mixed strategy that focuses on the cause of the problem and behavioral approach.
So, hypnosis does work for premature ejaculation, but it might not work for all types of PE.
Hypnotherapy is more effective when the cause of PE is an underlying behavioral issue. In case of a physical disorder, hypnosis might not be a good choice.
In cases where premature ejaculation is due to stress, anxiety, trauma, fear, anger, or other emotions, hypnotherapy becomes essential. In such a case, you won't be able to manage PE unless you get rid of the root cause (such as anxiety or fear).
Anxiety-related premature ejaculation can best be treated with hypnosis therapy. For other scenarios, other treatment methods for PE are more effective that are discussed in the next section…
Premature Ejaculation Hypnosis Alternatives
Hypnotherapy is helpful in the treatment of anxiety-related premature ejaculation. Other types of ejaculation-related issues require more sophisticated methods to manage PE as discussed below:
1. Male Genital Desensitizers
The easiest and simplest way to cure premature ejaculation is via male genital desensitizers (also known as numbing products and delay products). These are topical numbing products that come in a variety of forms including sprays, wipes, creams, and condoms that you have to apply externally to your penis before intercourse.
Desensitizing products reduce the sensitivity of your penis (by numbness) and make you last longer in bed by delaying the ejaculation process. Numbing is achieved by anesthetics which either include local anesthetics (like lidocaine or benzocaine) or herbal numbing agents (like clove oil).
You have to apply the numbing product to your penis 5-15 minutes before intercourse and its effect lasts 30-60 minutes. You can enjoy sex longer.
Learn more about male genital desensitizers here.
Quick recommendation: Try VigRX Delay Spray as it contains benzocaine to make you last longer in bed. It also contains herbal ingredients that give you control over ejaculation and make it easy to control ejaculatory muscles. It comes with free shipping and a 67-day money-back guarantee along with discreet packaging.
2. Herbal Supplements
Herbal tablets, pills, and supplements help you treat PE risk-free. Since these tablets have plant extracts and herbs, they have no major side effects. You can buy herbal pills for premature ejaculation without a prescription easily.
Desensitizing products are messy and somewhat unromantic. You have to apply a delay spray, for example, to your penis before intercourse. This makes it hard to have an unplanned romance with your woman and you have to tell your secret to your woman that you are using some product to last longer.
If this sounds problematic, you should consider using herbal tablets.
Take tablets as per dosage and be ready for sex throughout the day. You don't have to tell your partner what you are taking.
Herbal pills need time to increase ejaculation duration. You won't be able to see immediate outcomes as in the case of male genital desensitizers. Taking supplements regularly for weeks will give you desired results.
Learn more about pills for the treatment of premature ejaculation here.
Quick recommendation: Try ProSolution Plus which is the only scientifically tested and clinically proven herbal pill for PE. According to a study, ProSolution Plus improved premature ejaculation by 64% in men who took 2 tablets a day for 60 days with no side effects. You can try it risk-free with a 67-day money-back guarantee.
3. Physical Techniques
There are certain physical techniques including exercises that help you last longer in bed. These methods require practice to master the technique.
The squeeze technique is a famous way to delay ejaculation during intercourse. You can use it to last indefinitely in bed. Here is how it works:
Start intercourse
Stop and squeeze your penis when you reach climax
Take a break of 30-60 seconds and don't ejaculate
Start again when you are no more stimulated
Repeat.
Techniques like these seem quite easy on paper but are hard to implement. It is not easy to stop jerking when you are about to reach climax, trust me. It takes some nerves to stop just at that moment…
The good thing about these techniques is that they are free and can be mastered with practice. No cost whatsoever.
However, you have to take your partner in the loop. Most of these methods can't work without the consent and help of your sex partner.
Learn more about the physical methods to hold your come and last longer in bed here.
4. Home Remedies
If you are a fan of natural remedies, you can try them for premature ejaculation. There are a lot of home remedies that are backed by scientific evidence.
For example, using certain foods and vegetables like green onion, carrots, spinach, walnuts, garlic, ginger, soybeans, and others are clinically proven to help treat premature ejaculation.
Adding these foods to your diet will help you last longer in bed.
The issue with home remedies is that they require changes in your lifestyle and habits. Don't expect miracles after eating walnuts for a few days. Be consistent and don't haste.
If you are up for home remedies, check out this list of the best home remedies for PE.
5. Prescription Medicine
Unfortunately, there is no FDA-approved prescription drug for PE. Doctors use certain medicines off-label to treat premature ejaculation as these medicines delay orgasm as a side effect.
Selective serotonin reuptake inhibitors (SSRIs) or antidepressants are the most medicines used for the treatment of PE. These are prescription medicines so you need to consult a medical expert to get one of these medicines.
Depending on your state, you might have to use an antidepressant regularly or on demand a few hours before intercourse.
Paxil or paroxetine is the most common antidepressant that a doctor might suggest. It is scientifically proven to help men in delaying orgasm.
Learn more about premature ejaculation pills here.
Final Thoughts on Hypnosis for PE
Hypnotherapy for premature ejaculation isn't new. It has been used for decades to treat multiple types of sexual disorders including PE.
While hypnosis might not help in all types of PE cases, it surely helps where anxiety or stress is the cause. In such cases, it is mandatory to seek help from a hypnotherapist.
You need to consult a doctor and discuss your issue in detail. Your doctor will guide you further if you need hypnotherapy or not. If you are sure that there is something bugging you deep inside that leads to PE, you should consult a sex therapist or hypnotherapist.
If your ejaculation disorder is temporary and has appeared recently, it is recommended to look for other treatment options like desensitizers, supplements, or exercises.
Remember, the best way to cure premature ejaculation quickly is by using more than one treatment method. Don't stick with just one method.
Updated: August 21, 2023