This post contains affiliate links. We earn commissions if you buy through an affiliate link with no additional cost to you. Read full disclosure here.
If you are suffering from premature ejaculation (PE), one of the best treatment options you have is male genital desensitizers. These are numbing products that work instantly and help you delay ejaculation and last longer in bed.
The best part: Genital desensitizers are approved by the FDA so they are legal and safe.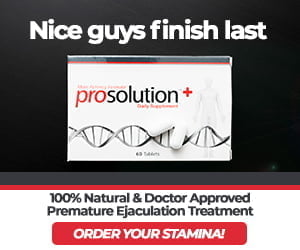 This detailed article covers the best male genital desensitizers that you should try if you are suffering from PE or just want to last a bit longer in bed. We did the hard work so you can make a well-informed decision and buy and use the right desensitizer.
Quick summary of the best male genital desensitizers:
What is a Male Genital Desensitizer?
Male genital desensitizer is an over-the-counter topical numbing product that is applied to male genitals externally for delaying orgasm and treating premature ejaculation. It contains a topical anesthetic such as lidocaine that reduces the sensitivity of the penis and enforces numbness to male genitals. This leads to a delay in ejaculation and makes men last longer in bed during intercourse. Male genital desensitizers are available in the form of sprays (known as delay sprays), gels and creams, and delay wipes.
The FDA has approved male genital desensitizers that contain lidocaine or benzocaine (with a certain concentration) for the treatment of premature ejaculation (a sexual disorder where men ejaculate before they want to during sexual intercourse, usually within 30 seconds of penetration).
Benzocaine is allowed by the FDA to be used in male genital desensitizers in multiple forms as long as the maximum concentration is 7.5%. Lidocaine is only allowed in the form of metered spray. So, you have multiple varieties of benzocaine-based desensitizing products.
Herbal male genital desensitizers are allowed by the FDA too (as they don't need to follow any special labeling guidelines). Herbal desensitizing products use herbs and plant extracts to induce numbing effect. The most common natural numbing agent is clove oil.
In terms of effectiveness, lidocaine has the strongest numbing effect followed by benzocaine and lastly, herbal desensitizers have the lowest numbing effect.
Does Male Genital Desensitizer Work?
Yes, male genital desensitizers work by helping you delay orgasm, increase ejaculation duration, and last longer in bed.
Male genital desensitizers contain a numbing agent that significantly reduces penile sensitivity and delays the ejaculation process. When you apply a desensitizing product to your penis, it blocks the signals from reaching your brain. The genitals are temporarily disconnected from your brain and the brain doesn't know (exactly) what's happening down there. Your brain fails to understand the stimulation process and doesn't know the intensity of the stimulation and therefore, delays the ejaculatory reflex (a process initiated by the brain based on sexual stimulation to ejaculate semen).
This delay in ejaculatory reflex by your brain leads to a delay in ejaculation and you can last much longer in bed.
This is how a local anesthetic like lidocaine or benzocaine works when applied to male genitals. This is a scientific process and it can't be denied. The numbing effect and the delay in ejaculation might vary from person to person, but it happens in almost all men who use a genital desensitizer.
How We Selected Male Delay Desensitizers
We selected genital desensitizing products based on the following criteria:
FDA compliance: There are clear guidelines by the FDA for male genital desensitizers in terms of what topical anesthetics to use, what concentration to use, allowed desensitizers, labeling requirements, directions, safety requirements, etc. We filter desensitizing products based on FDA compliance and include only the ones that followed all the guidelines. Read more about FDA compliance for male genital desensitizers here.
Brand reputation: Only well-known and registered companies that have adequate quality control measures and follow standard business practices are included in the list.
Customer reviews: Desensitizers that have received enough positive reviews from customers including ample business reviews are selected.
Price: We include desensitizers from different price ranges that suit a wide range of buyers.
Best Male Genital Desensitizers
Here is a list of the best male genital desensitizers that met our selection and review criteria:
1. VigRX Delay Spray: Overall Best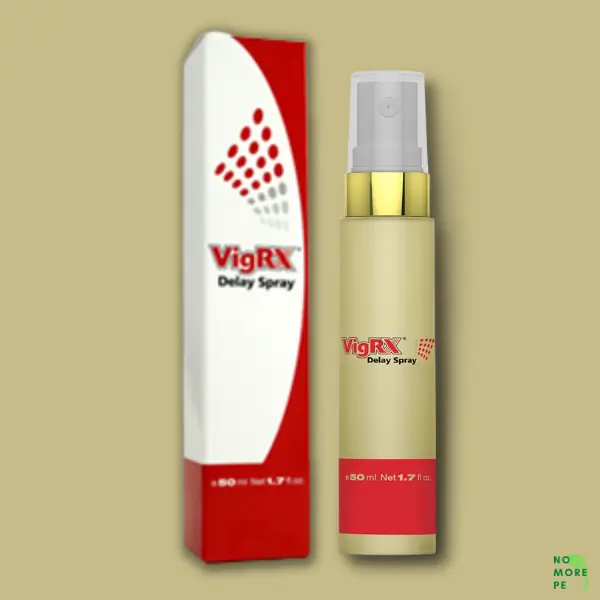 VigRX Delay Spray is manufactured by Leading Edge Health Inc. which is a US-based company that has been manufacturing and selling natural and herbal health products for more than 20 years. It manufactures all the products in cGMP-certified facilities located in the US.
VigRX Delay Spray is a mix of both herbal and benzocaine making it better than most of the other delay sprays in the market. It contains benzocaine as the numbing agent which makes it FDA-compliant as benzocaine is approved by the FDA for use in male genital desensitizers.
The herbal ingredients boost overall sexual performance and satisfaction which include Panax ginseng root extract, ginkgo biloba leaf extract, Cinnamomum zeylanicum bark extract, Rubus idaeus fruit extract, Paeonia albiflora root extract, and others.
It works in 10 minutes and the numbing duration lasts between 30-60 minutes which is more than enough for most men. It comes with free shipping in the USA and your order is delivered in discreet packaging. Your purchase is protected by a 67-day money-back guarantee. You can return the VigRX Spray bottle if it doesn't work for you or does not work as expected. This makes it 100% risk-free.
A single VigRX Delay Spray bottle is priced at $49.95 which has 50 ml spray (up to 385 pumps). You can get bulk discounts on purchase of 2 and 3 bottles. The minimum price per bottle reduces to $43.31 with $0.86 per ml and $0.11 per pump.
Learn more about VigRX Delay Spray here.
2. Promescent Climax Control: Customer Choice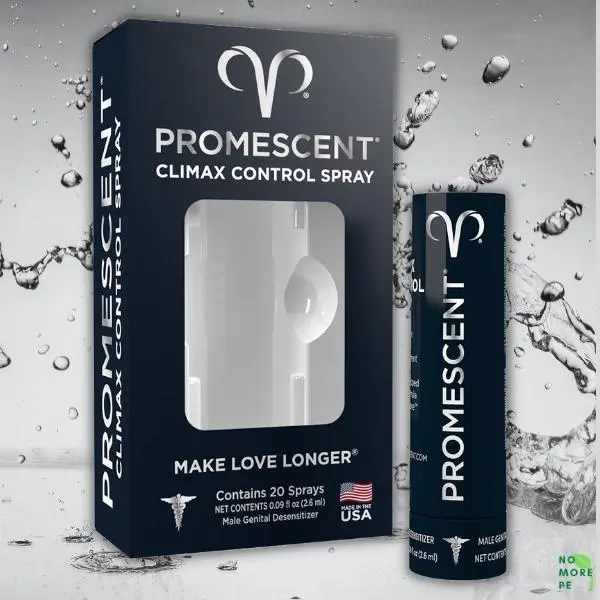 Promescent Climax Control Delay Spray is manufactured by Absorption Pharmaceuticals LLC which is a pharmaceutical company founded in 2011. It specializes in manufacturing sexual health products including a desensitizing delay spray for men.
The Promescent Delay Spray contains lidocaine 7.7% and you get 10 mg per pump of lidocaine making it an FDA-compliant desensitizing spray for men. Lidocaine is a strong topical anesthetic with a stronger numbing effect.
Promescent Spray is clinically proven to increase ejaculation duration in 14 days by 4.35 minutes, according to a study.
It needs 10 minutes to absorb completely into your penis skin and numbs your penis. The lasting duration of Promescent Spray is 60 minutes. You get a 60-day money-back guarantee (applicable to US residents only) and your parcel is shipped in discreet packaging.
One thing that makes Promescent Desensitizing Spray a great choice is customer reviews. It has a 3.9-star rating based on almost 16K reviews. It shows it is used a lot by men throughout the USA.
Promescent numbing spray comes in 2 different bottles, 2.6 ml, and 7.4 ml. The 2.6 ml bottle is priced at $22.95 and it contains 20 pumps ($1.15/pump). The 7.4 ml bottle costs $59.95 which has 60 pumps ($0.99/pump). At $8.10 per ml, Promescent is an expensive desensitizing product.
Shop Promescent Climax Control Spray.
3. Lube Life Climax Control Delay Spray: Budget-Friendly
Lube Life Climax Control Delay Spray is manufactured by CC Wellness. It has been manufacturing personal care and intimate wellness products across different categories since 2003. It has ISO-certified manufacturing facilities throughout the USA.
Lube Life Spray has 7.5% benzocaine which is the maximum concentration allowed by the FDA for a genital desensitizing product. So, it's FDA-compliant and does a good job of numbing your penis. It works with latex condoms and is a paraben and alcohol free formula.
It works in 5-10 minutes after application and the numbing effect lasts up to 60 minutes. It doesn't offer any money back guarantees like other genital desensitizing sprays and it has no discreet packaging.
The best thing about Lube Life Climax Control Desensitizing Spray is its price. It is one of the cheapest sprays that only costs $16.99. A single bottle has 60 ml spray which is equivalent to 460 pumps. This means a single bottle will last a few good months. The price per ml is $0.28 and the price per pump is a measly $0.04.
Shop Lube Life Climax Control Genital Desensitizer.
4. K-Y Duration Desensitizing Spray: Popular Brand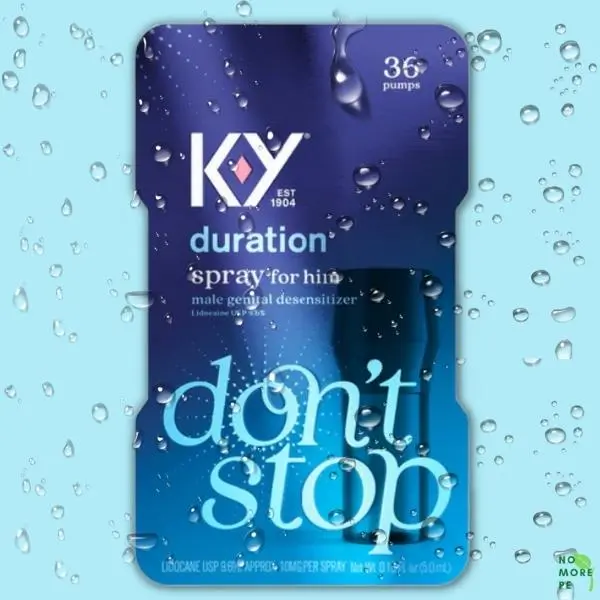 K-Y is a popular and reputable brand name in sexual health products. The company was founded in 1904 in NYC and it was acquired by Reckitt Benckiser in 2014, a publicly traded company.
The K-Y Duration Desensitizing Spray for Men contains lidocaine (9.6%) as its active ingredient. It has 10 mg of lidocaine per pump which makes K-Y Duration FDA compliant. It has a high percentage of lidocaine which makes it stronger than Promescent Delay Spray.
It works in 5-15 minutes and the effect lasts up to 60 minutes. It has a 4-star rating based on 17K customer reviews which is an indication of the fact that it is loved by customers and that's primarily due to its strong numbing effect that keeps you going forever.
It comes with discreet packaging, but you don't get money back guarantee.
K-Y Duration Delay Spray is available in two different bottles. The small 5 ml bottle is priced at $19.97 with 36 pumps. The price per ml is $3.99 and the price per pump is $0.55.
The large bottle has 10.8 ml of spray and it costs $36.99. It has 100 pumps where a single pump costs $0.37 and the price per ml drops to $3.42.
When compared to Promescent Delay Spray (which also contains lidocaine), K-Y Duration Desensitizing Male Spray is cheaper and has a better numbing effect.
Shop K-Y Duration Genital Delay Spray.
5. Doc Johnson Power Plus: Best Cream
Doc Johnson Power Plus Delay Cream is a nice option for men who are more into creams and gels. It is manufactured by Doc Johnson, a US-based pleasure product manufacturing company. It was founded in 1976 in Los Angeles, US.
Power Plus Cream has 7.5% benzocaine making it FDA-compliant. It works in 5-10 minutes after application and its effect lasts 30-60 minutes. Due to high benzocaine concentration, it has a stronger numbing effect which can be controlled based on how much cream you put to your penis.
It has an odorless and tasteless formula making it a decent choice for oral sex. It doesn't have a money back guarantee but it comes in a discreet package and the billing is also discreet to ensure your privacy.
A single tube costs $13.99 and it has 56 g of cream. This makes it quite cheap when compared with delay sprays. The price per gram is $0.25 and it can easily last at least a month. You only have to apply a small amount so it's quite enough.
One issue with delay creams is that you can't control the quantity easily. With sprays, you can add more pumps easily to adjust the numbing effect. And each pump gives you a fixed amount of spray. This is hard to do with creams.
Shop Doc Johnson Power Plus Delay Cream.
6. VigRX Delay Wipes: Best Desensitizing Wipes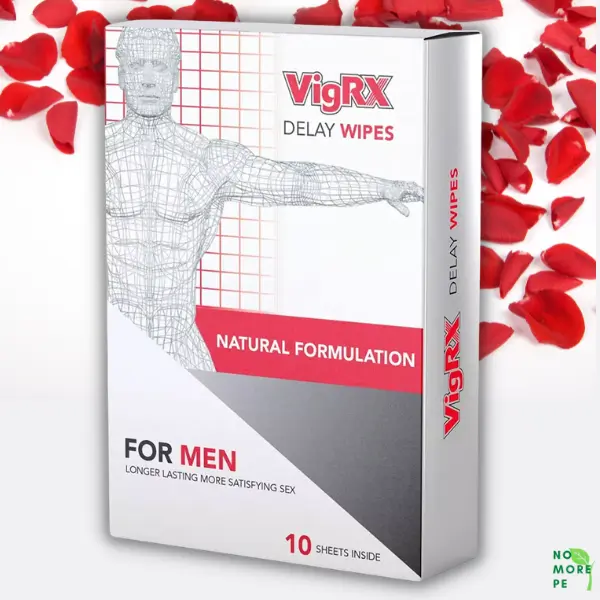 VigRX Delay Wipes are manufactured by Leading Edge Health Inc. and these are 100% herbal wipes with a numbing effect. It contains zanthoxylum oil and peony plant extract as the main herbs that help you last longer in bed.
Zanthoxylum oil is scientifically proven to numb skin and it is used as a pain reliever too as reported in these studies. It takes 5-10 minutes to work and the effect lasts 30-60 minutes. The numbing effect isn't too strong, rather it is mild. This lets you enjoy sexual intercourse and last longer at the same time.
VigRX Delay Wipes have a 67-day money back guarantee with free US shipping. Your wipes will be delivered in discreet packaging to maintain your privacy.
A single pack of VigRX Wipes is priced at $29.95 and it has 10 wipes ($2.95/wipe). You have to use at least one wipe per sexual intercourse so a single pack is enough for up to 10 intercourses. You get a bulk discount by buying 2, 3, and 6 packs together.
The price per pack goes down to $17.825 if you buy 6 packs and the price per wipe lowers to $1.78.
Other Best Male Genital Desensitizers
Here is a list of more male genital desensitizers across different forms that we inspected, analyzed, and reviewed:
How to Use Male Genital Desensitizer
Almost all male genital desensitizers are applied in the same way. The application process might slightly vary depending on the manufacturer, so the first step is to carefully read and follow the directions on the label.
The way you apply desensitizer significantly impacts its effectiveness. A common issue men face with delay products is that they don't work and don't increase ejaculation duration (as per expectations). This happens when you do not apply desensitizer correctly and don't follow the instructions.
Follow these steps to use numbing products to get the best results:
Wash your penis before applying any genital desensitizer. This increases its absorption capacity and it gives better results on a clean penis.
Apply desensitizer to the penis head and shaft. This is essential. The head and shaft are the penile parts that have the sensation and need to be numbed. Applying desensitizer anywhere else (like testicles) won't help much. Stick with the head and shaft.
Wait for 5-15 minutes or as mentioned on the product label. This wait time is crucial as it ensures that the desensitizer is absorbed completely and the anesthetic has been activated. When you apply desensitizer correctly, you will start feeling numbness in under 5 minutes. Benzocaine and lidocaine act almost immediately so you will feel numbness right away but this doesn't mean you should proceed with intercourse right away. Wait for at least 5-15 minutes even if you feel numbness down there.
Wash your penis. This is required for two main reasons. First, to avoid passing the desensitizer to your partner's vagina. If it does, you will make her numb too and she will take way longer to orgasm (you don't want this to happen, right?). Second, if you want to have oral sex. You don't want your partner's mouth to numb or you don't want her to inhale anesthetic (which isn't a nice thing to do). Make sure you wash your penis with water after waiting for the recommended time period (5-15 minutes).
Have action. You know the rest…
Wash the penis with soap after intercourse to remove the remains of the desensitizer. Don't let it sit on your penis as it might cause irritation and itching.
Male Genital Desensitizer Side Effects
Desensitizers are generally safe to use, but they are not without side effects.
Herbal desensitizers are safe and have no side effects. Desensitizers that have lidocaine or benzocaine have rare side effects that include:
Skin itching, irritation, rash, redness, and burning
Fever
Headache
Body aches
Allergic reaction
Fatigue
Dizziness
Muscle pain.
These are temporary side effects that go away with time (normally 1-2 hours after you have washed it away). Itching and slight burning in the penis are the most common side effects. You might feel it for a couple of hours after intercourse. No further action is required unless it doesn't go away automatically. In that case, consult a doctor.
Excessive use of benzocaine and lidocaine has serious side effects including breathing issues, seizures, and death. Topical anesthetics reduce oxygen levels in cells which has lethal consequences. This is more likely to happen when you use desensitizer excessively.
Stop using and see a doctor immediately in case of breathing issues.
Male Genital Desensitizer Alternatives
The best thing about desensitizers is that they work instantly but they are messy at the same time. There are other options you can try to delay ejaculation and last longer in bed:
1. Herbal Pills
Herbal supplements for premature ejaculation provide a mess-free way to last longer in bed. There is no need to apply anything to your penis a few minutes before intercourse. Take tablets daily and have sex whenever you want.
You can buy herbal tablets without a prescription and these tablets do a good job of delaying ejaculation.
For example, an herbal tablet for PE called ProSolution Plus is scientifically proven to improve ejaculation duration by 64%. According to a study, men who took it regularly for 60 days saw an improvement in premature ejaculation by 64%, erection quality by 67%, sexual function by 48%, and overall sexual satisfaction by 78%.
These types of clinically tested herbal tablets are your best bet.
2. Behavioral Techniques
There are multiple behavioral methods that help you delay ejaculation significantly. However, these techniques require practice.
The squeeze technique is a popular behavioral technique where you have to squeeze your penis during intercourse when you are about to reach climax. Keep it squeezed for 30-60 seconds so that you are no more stimulated.
Then proceed with intercourse as normal. Squeeze your penis with your hand again when you are about to reach orgasm.
You can last as much as you want with the squeeze technique. But this requires a lot of practice and your partner's consent as well.
3. Home Remedies
Natural ways to delay climax during intercourse are effective and free. They are free and can be used by anyone quite easily.
However, home remedies to last longer in bed require lifestyle changes. You have to stick with a routine consistently.
For example, zinc and magnesium rich foods are scientifically proven to cure premature ejaculation. Adding these foods to your diet will help you overcome PE and gain control over your orgasm.
But you will need to use zinc and magnesium rich foods constantly for months to see a change. If you can stick with a certain routine and are ready to change your lifestyle, you should try home remedies.
Learn more about home remedies for premature ejaculation here.
4. Prescription Drugs
You can consult a doctor to get prescription medicine for premature ejaculation. The FDA has no prescription medicine for PE so doctors prescribe antidepressants to patients for delaying orgasm.
Antidepressants like paroxetine are the most common selective serotonin reuptake inhibitor (SSRI) that doctors prescribe for the treatment of PE. SSRIs have multiple side effects including delay in orgasm and this is what makes them an ideal off-label medicine for PE.
What is the Best Male Genital Desensitizer?
Based on our analysis and findings, VigRX Delay Spray is hands down the best male genital desensitizer. It contains benzocaine and herbal ingredients to keep you going during intercourse.
Benzocaine reduces the sensitivity of your penis and makes you last longer while herbal ingredients provide you strength and control over ejaculatory muscles. So, you don't just rely on the numbing agent but it strengthens your ejaculatory muscles that help you in the long run.
VigRX Delay Spray has no major side effects and it comes with a 67-day money back guarantee. You can try it risk-free and see how it goes for you. If you don't like it, you can return it and get your money back.
You lose nothing.