This post contains affiliate links. We earn commissions if you buy through an affiliate link with no additional cost to you. Read full disclosure here.
Roman Swipes are benzocaine-based premature ejaculation (PE) sex wipes used to delay orgasm and help men last longer in bed. It is effective and safe, but you should be cautious of Roman wipes side effects when using it.
The common side effects include skin irritation, skin itching, and skin burning. There are no serious side effects and Roman wipes are safe to use. In order to avoid these side effects and avoid transmission to your partner, you should use wipes accurately.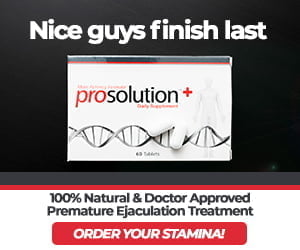 This article covers all the Roman Swipes side effects, the probability of occurrence, how to use wipes safely, and much more.
What Are Roman Swipes?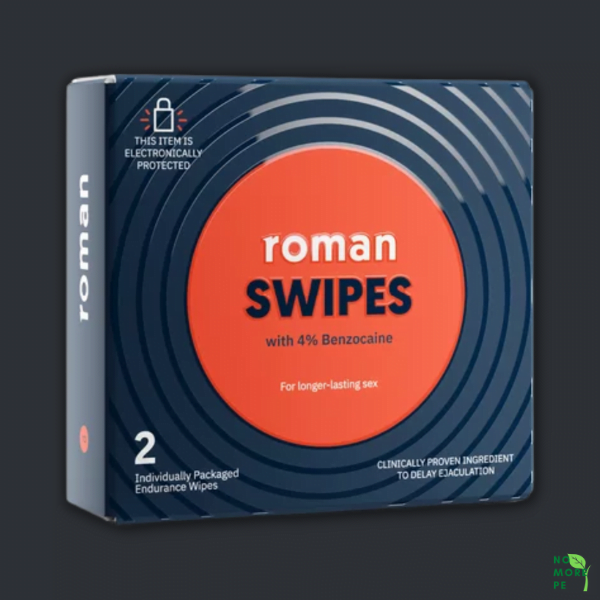 Roman Swipes (or Roman Wipes) are manufactured and sold by Ro which is a US-based telehealth company that connects patients with relevant and licensed healthcare professionals. Roman Wipes are non-prescription topical delay wipes for the treatment of premature ejaculation (PE). The wipes contain 4% benzocaine which does a good job of reducing sensation and making men last longer in bed.
The 4% benzocaine concentration is as per the FDA guidelines. The maximum benzocaine concentration approved by the FDA for male genital desensitizers is 7.5%. Roman Swipes adhere to these guidelines making them safe to use.
How Do Roman Swipes Work?
Roman wipes work by reducing the sensation of your penis.
Benzocaine, the active ingredient in Roman Swipes, is a local anesthetic. When you apply it to your penis, it reduces sensation and feeling (and can partially or fully numb your penis) which leads to a delay in orgasm.
The signals from your penis are blocked from reaching your brain. This is known as blocking sodium channels which temporarily disconnects the communication between your brain and penis. Your brain doesn't know if you are stimulated and, therefore, it does not initiate the ejaculatory reflex on time. A delay in ejaculatory reflex (which is the natural response to stimulation and the first step towards ejaculation) means a significant delay in ejaculation.
In simple words, Roman Swipes minimize sensation when you apply it to your penis and this makes you last longer during intercourse.
How Long Do Roman Wipes Last?
The effect of Roman Wipes lasts between 20 to 30 minutes. You will feel a reduction in sensation and numbness up to 30 minutes after application.
A single Roman wipe will last up to 30 minutes and if you apply more wipes, the lasting duration will increase proportionately. If you want the effect of the wipes to last longer, you should use more than a single wipe.
For example, if you are expecting intercourse in the next 40 minutes but can't use a wipe before action, you can apply up to 2 Roman wipes that will help you last for longer.
The lasting effect of the wipe also depends on your skin type and previous experience with desensitizing products. If you have sensitive skin, you will experience the effect for longer. And if you have used other desensitizing products in the past on your penis (especially lidocaine products), the lasting duration of the Roman wipes will reduce as your penis is used to local anesthetics.
Roman Wipes Side Effects
Roman wipes are generally safe and have no major side effects. Some men might experience the following common side effects:
Skin burning, itching, rash, and flaking
Skin redness
Headache and body aches
Dizziness
Fever
Loss of erection.
These are the side effects of topical benzocaine that are found in all topical benzocaine-based desensitizer products including premature ejaculation wipes.
The probability of experiencing one of these side effects is very low. One out of every 100 men who use Roman wipes suffers from one or more of these common side effects. The serious side effects (e.g.; difficulty breathing, changes in skin color, severe skin irritation, inflammation, and lung disorders) have an even lower probability (1 out of every 1K to 10K people).
It is recommended to follow the guidelines on the label to minimize negative impact and to keep yourself safe. Follow the recommended procedure to use delay wipes as listed in this article to avoid side effects.
In case of an issue, stop using Roman Swipes immediately and consult a doctor.
What Percentage of People Experience Roman Swipes Side Effects?
Between 0.01% to 1% of men experience negative impacts of Roman wipes. The chances are low but not ignorable.
Benzocaine isn't 100% safe. It has side effects. But the good news is that these aren't permanent side effects, rather they wear off after some time.
For example, skin itching is the most common side effect of Roman Swipes. If you experience itching in your penile area, wash your penis before and after sexual intercourse and it will go away as soon as the effect of the wipe wears off (20-30 minutes).
In case you consistently experience any side effect for a prolonged duration, see a medical expert.
Does Roman Swipes Transfer to Partner?
No, Roman Swipes do not transfer to your partner if you follow the recommendations on the label. If you don't wait or wipe off your penis before intercourse, Roman Swipes will transfer to your partner.
You have to wait at least 5 minutes after applying a Roman wipe to your penis. Let it dry, and once it is completely dried and absorbed, it won't numb your partner.
A better idea is to wash your penis with water before sexual intercourse to keep your partner safe. Washing your penis once the benzocaine has completely dried won't affect the lasting duration and it will save your sex partner from getting numb.
So, it is a good idea to wait at least 5 minutes after application, wash your penis with water (or wipe off), and then have sexual intercourse.
Are Roman Swipes Safe?
Yes, Roman Swipes are safe to use. Benzocaine, which is the active ingredient in Roman wipes, is safe and allowed by the FDA for use on male genitals for the treatment of premature ejaculation.
Roman wipes have 4% benzocaine which makes them mild. Even if you use more than one wipe at the same time, you will still be OK.
The side effects are rare and disappear automatically.
Excessive use of Roman Swipes isn't recommended. Avoid using 10 or more wipes per 24 hours. This might get you in trouble.
Roman Swipes Cost
Roman wipes are available in different packages:
Pack of 2 Roman Swipes is priced at $7.49 ($3.75 per wipe)
Pack of 5 Roman Swipes costs $11.98 ($2.40 per wipe)
Pack of 12 Roman Swipes costs $19.97 ($1.66 per wipe).
The lowest price per wipe is $1.66 which makes Roman Swipes quite affordable and cheap as compared to other premature ejaculation wipes that cost as high as $2.48 per wipe.
You get your wipes delivered in discreet packaging and have no taste or smell which makes them confidential.
FAQs
Do Roman Wipes Affect Partner?
No, Roman Swipes do not affect your partner as long as you wait at least 5 minutes and let the benzocaine dry.
Can I Use Roman Swipes Every Day?
Yes, you can use Roman Swipes every day. If you are following the directions on the label, you can use Roman wipes daily without any harmful effects.
Do Roman Swipes Leave a Taste?
No, Roman wipes do not have any taste. You should wait at least 5 minutes before oral sex and wash your penis before action to avoid transmission to the mouth.
Do Roman Swipes Smell?
No, Roman Swipes do not have any scent. The wipes don't smell and are completely discreet once they dry.
Is Roman Swipes Discreet?
Yes, Roman Swipes are discreet and are delivered in discreet packaging.
Do You Have to Wash Off Roman Swipes?
Yes, you should wash off your penis before and after sexual intercourse when you use Roman Swipes. It is a good practice that limits the transmission to your partner and avoids itching when you wash after sex.
Should You Use Roman Wipes?
Yes, if you are looking for discreet, effective, and affordable benzocaine wipes to treat premature ejaculation or last longer in bed longer, you should give a try to Roman Swipes.
These are harmless and safe premature ejaculation wipes with no major side effects. Apply a wipe to your penis head and shaft at least 5 minutes before sexual activity. The effect lasts between 20-30 minutes which is more than enough to enjoy unstoppable bedroom romance.