Every man wants to be confident, explore, and enjoy fearlessly at least at one place at any cost—his bedroom. And it gets frustrating when you ejaculate early and have little to no control over ejaculation. If you are tired of being ejaculated within a few minutes of erection and thinking of using premature ejaculation wipes or benzoyl wipes in bed. You must know how to use delay wipes properly to maximize timing and pleasure.
Benzocaine wipes or delay wipes first came on the market after an innovative research study that suggested that wiping your penis with products having anesthetic agents before sexual intercourse could delay ejaculation.
Also, it is an effective treatment for premature ejaculation. Benzocaine is a local anesthetic similar in action to lignocaine and has similar effects to sildenafil citrate and xylocaine.
When a local anesthetic is applied to your skin, it blocks the action potential by inhibiting sodium channels. When these channels get blocked, you don't feel as much or I must say nothing at all when something brushes up against your skin.
Benzocaine or sildenafil is the most common anesthetic used in delay wipes. Benzocaine is also used in topical treatments for cold sores and even tooth removal. Attaining low levels of sensitivity will give you maximum happiness and vigorous moments in bed.
But do delay wipes work?
And should you have any concerns related to its use and methods of application? How to apply and how to use delay wipes properly? What steps do you need to follow to make the best use of every delay wipe you use?
To empower you and boost your confidence in this situation, I have discussed a simple and best method to use premature ejaculation wipes. Let's get into how to use delay wipes.
How To Use Delay Wipes
Delay wipes leave no mess and can be conveniently applied. Steps are simple to follow and apply. You must do it properly so you get the maximum output. When compared to condoms and delay sprays, wipes are much easier to use.
You can keep a packet of premature ejaculation delay wipes in your wallet or pocket. Pull one out whenever you feel the need.
And follow these steps: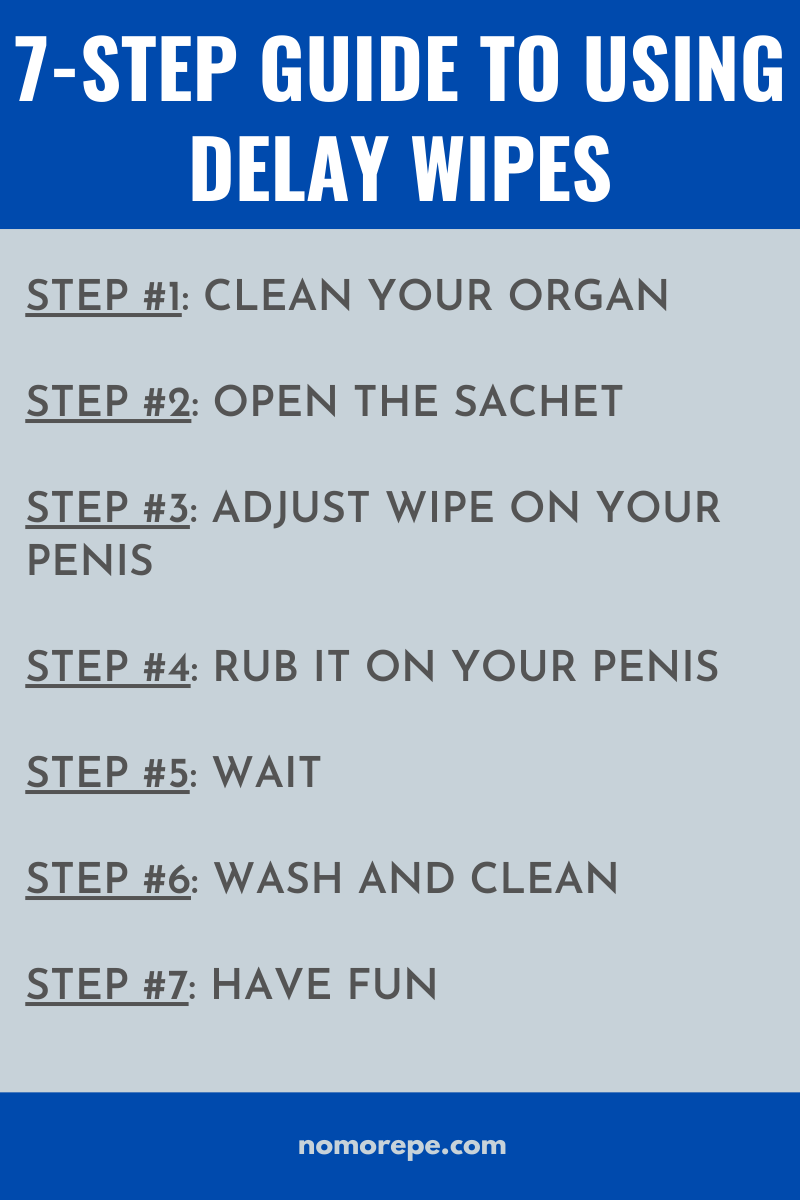 Step #1: Clean Your Organ
Clean your penis or wash it before application to achieve better results.
It isn't necessary to clean your penis but is highly recommended. I understand that there are moments when you don't feel like going to the washroom to clean your penis.
Sex is mostly spontaneous and rarely planned.
If you feel that washing your organ might ruin the moment or negatively impact erection, clean your penis with a wet cloth or wet tissue.
But since you have to wait after applying a delay wipe to your penis, it is, therefore, recommended to clean your organ properly because you can't have instant intercourse.
Don't rush. Be patient. Clean your organ first.
Step #2: Open the Sachet
Once you have cleaned your penis, you need to open the sachet and take out the delay wipe. Nothing fancy here. It is a simple sachet that needs to be opened correctly.
Read instructions before you open it. Open the sachet from the appropriate side as instructed on it.
Step #3: Adjust Wipe on Your Penis
It is time to adjust the delay wipe on your penis.
Take the wipe and wrap it around your penis in such a way that it completely covers the whole penis. The shaft and head are the main regions. Cover the shaft first, wrap it, and then take it to the head.
Step #4: Rub It on Your Penis
Rubbing the wipe on your penis is simple.
You have to do it from top to bottom. Do it gently. Massage the head of your penis thoroughly as most of the sensitivity lies here and in the shaft. So do it properly. If you are able to numb the head then you'll have maximum results.
The head is the main part that needs to be numbed. Rub it gently for a couple of minutes. Don't be harsh or you might get rashes.
Step #5: Wait
Time to wait.
Yes, it is the hardest part and it might ruin the moment. But you have to do it. Waiting for usually 10 to 15 minutes gives acting agents a better chance to get absorbed into the skin.
You don't have to sit idle and wait for your organ to get numb. Rather, continue foreplay. Make sure you don't lose the erection when you are waiting.
Engage in foreplay with your partner. Have some fun. Keep things hot.
Step #6: Wash and Clean
After 15 minutes, go ahead and wash your penis.
This is important because the numbing agent on your penis needs to be washed before intercourse. Else, it will be transferred to your partner and she will get numb too.
So, unless you want your lady to get numb, wash and clean your penis completely after waiting for at least 15 minutes.
This will minimize the chances you can transfer the numbing substances to your partner. If used correctly premature ejaculation wipes should not transfer to your sex partner. Also, before getting into an intimate period, be sure to wash your hands with soap to prevent numbing hands and passing the numbness onto your partner.
It is best to wash your penis and hands with soap.
Step #7: Have Fun
It is time to enjoy intercourse. Enjoy your stuff.
Every man can have a different experience with using premature ejaculation wipes because every man's threshold level and sensitivity of the penis are unique.
Note: It can be a little awkward and worrisome after using premature ejaculation wipes for the first time because a numb organ can feel a little strange and definitely out of the ordinary. Just relax, your sensations are not lost forever, usually for only about 40–60 minutes.
Final Words
That's how simple and easy it is to use a premature ejaculation delay wipe and enjoy long-lasting sex.
A study on the effects of sildenafil for premature ejaculation found that these effects help in delaying ejaculation, and thus sildenafil plays a vital role as an ingredient in delay wipes. You can easily buy these wipes online. Click here to order delay wipes in discrete packing delivered at your doorstep.
Proper use and applying the right methods help you get extra benefits, and you'll last much longer.