Editor's Note: This article is periodically updated with more stats on premature ejaculation as we find and vet them.
Last Updated: January 25, 2023.
---
Premature ejaculation (PE) is the most common form of sexual dysfunction affecting men. To date, there has been no universally acknowledged definition of premature ejaculation. This has complicated the analysis and examination of the condition in clinical settings. Premature ejaculation statistics vary across geographic and sociocultural settings. The elucidation of premature ejaculation and its risk factors has been difficult.
But then, this condition tends to have several risk factors which are strongly supported by medical findings. To effectively tackle the menace of PE, it is important to have an in-depth understanding of premature ejaculation statistics.
Premature Ejaculation Statistics
It is one of the most common male sexual disorders estimated to occur in 4-39% of men of all age groups. (Reading, 1984)
Premature ejaculation can affect up to 30% of men at some point during their lifetime. (Zava)
A report by the National Institute for Health and Care Excellence found that premature ejaculation affects 20-30% of men globally. (NICE)
Lifelong premature ejaculation starts from the very first sexual experience and remains active during life and the ejaculation time is very short usually between 1-2 minutes of vaginal penetration. (NICE)
Acquired premature ejaculation starts gradually or all of sudden with a history of normal ejaculation. The ejaculation time isn't as short as lifelong PE. (NICE)
A Korean study found that the definition of premature ejaculation yielded significant differences in outcome. Premature ejaculation had a 19.5% prevalence by self-reporting, 3% based on intravaginal ejaculation latency time recorded by stopwatch, and 11.3% based on a diagnostic tool score of 11 or above. (Lee, 2012)
Premature ejaculation has a global prevalence of approximately 30%. (Carson, 2006)
The average length of sex is 7.3 minutes but 43% of men finish in less than 2 minutes. (Psychology Today)
The average duration of intercourse is 4-7 minutes. (Gebhard, 1966)
Sixty-one percent of females want penetration to be 5-10 minutes excluding foreplay and 26% of females want penetration duration to be at least 11 minutes or more. (GQ)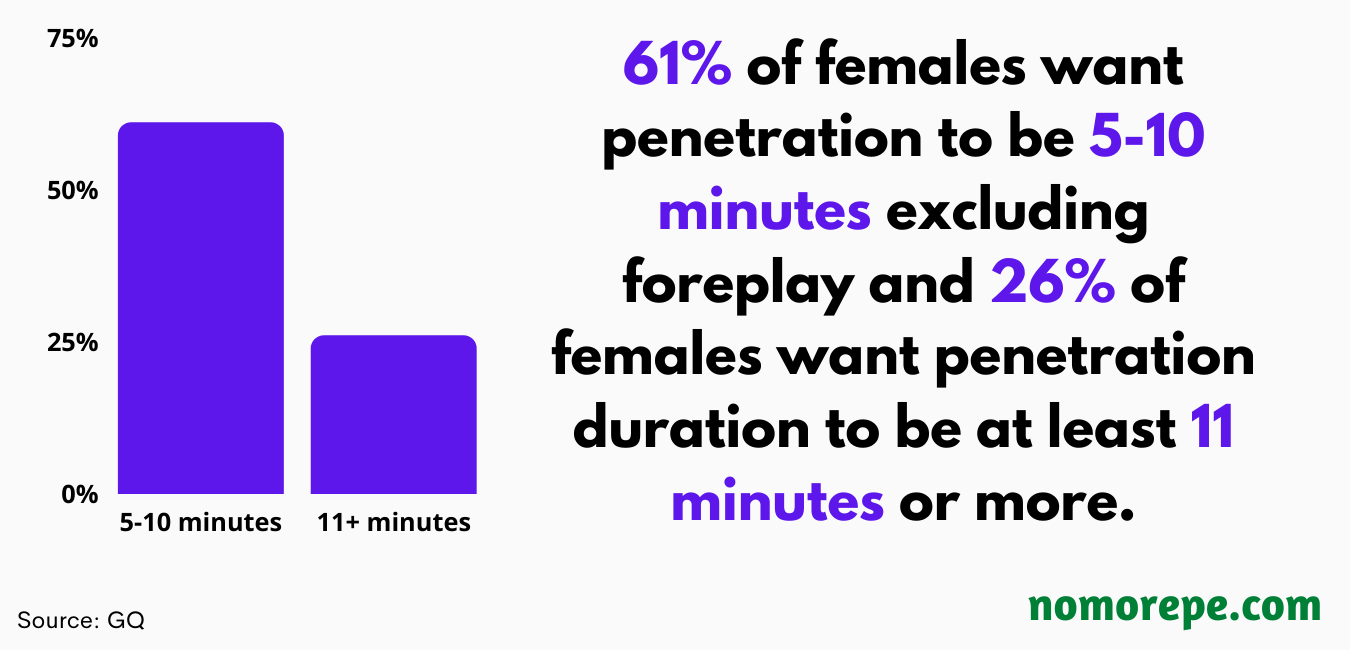 According to a one-month study of 500 heterosexual couples, the ejaculation time ranged between 33 seconds to 44.1 minutes with an average being 5.4 minutes. (Waldinger, 2005)
Higher education, divorce, and social phobia are three key factors that increase the risk of premature ejaculation. (Tignol, 2006)
PE is more common in younger men as compared to older ones. The risk of PE decreases with age. (Basile Fasolo, 2001)
Ejaculation time of less than a minute is considered severe PE. (Waldinger, 1998)
Thirty-one percent of men suffering from PE reported sexual satisfaction as poor or very poor. (Patrick, 2005)
Sixty-four percent of men with PE reported feelings of personal distress. (Patrick, 2005)
As much as 50% of men who have erectile dysfunction also have premature ejaculation. (Laumann, 2005)
A study found that 59% of premature ejaculation cases were diagnosed in men of Middle Eastern or Asian descent, while 41% of cases were diagnosed in men of European or Western birth. (Frewen, 2007)
Rapid ejaculation distress is negatively associated with sexual performance, increases the risk of erectile dysfunction, and leads to depression in the sexual couple. (Corona, 2021)
There is a higher prevalence (34%) of premature ejaculation among African American men and white men (29%) compared to Hispanic men who had a prevalence of 27%. (Giuliano, 2008)
Premature ejaculation has a highly variable prevalence and depends on the definition employed. Although 30% of men between the ages of 8-70 report being concerned about how fast they ejaculate, only 1-3% are diagnosed with premature ejaculation according to the DSM-5 criteria. The DSM-5 criteria define premature ejaculation as ejaculation occurring within 60 seconds after penetration and before the individual wishes. (DSM-5)
Premature ejaculation statistics in India and European countries mirror the statistics in the United States. The prevalence in Africa, Asia, and Australia, and other parts of the world is not known. (Verma, 1998)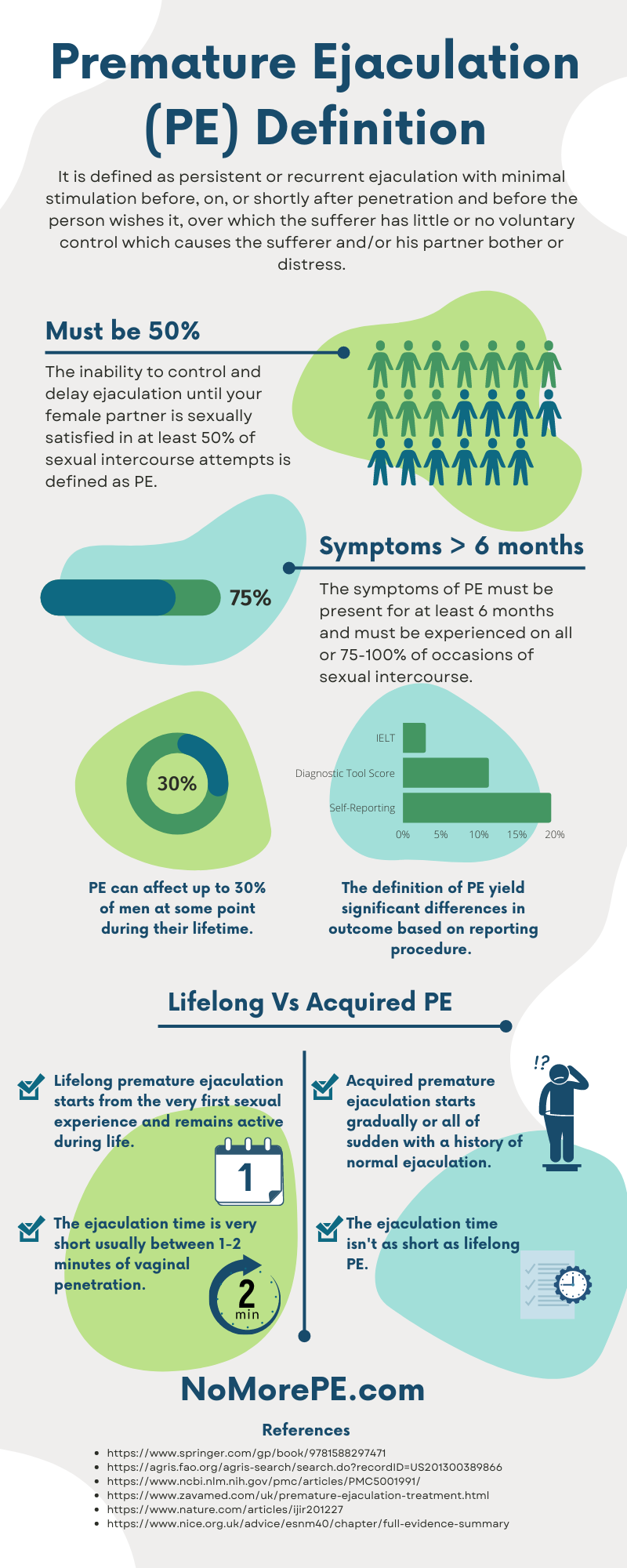 Premature Ejaculation Treatment Statistics
Premature Ejaculation Behavioral Technique Statistics
Time to Take Premature Ejaculation Seriously
It is important to note, though, that most men with this condition do not report it to their healthcare provider. This may be due to low self-esteem, a feeling of embarrassment, or the feeling that there's no available treatment for the condition. Some men do not even consider premature ejaculation a problem.
It is also worth noting that premature ejaculation is not age-dependent. Clinical research and experience have shown that it can occur at any age in a man's life. However, it is commonly reported among men aged 18-30 years. It may also occur alongside secondary impotence in men between the ages of 45-65.
Currently, no data is showing significant differences between races concerning the prevalence or incidence of premature ejaculation. But then, a couple of surveys suggest that there may be some degree of racial variation.
Premature ejaculation has a negative impact on the sex life of men and their partners. Men who experience it are not likely to report or seek help for it. As such, acceptance and improved awareness of this condition is of utmost importance to both clinicians and patients. An in-depth understanding of premature ejaculation statistics will improve its clinical management.