Men who suffer from premature ejaculation (PE) or those who want to last longer in bed to have better sex turn to benzocaine wipes as a solution. Benzocaine wipes are generally safe, but they aren't without side effects.
The common benzocaine wipes side effects include skin itching, rash, redness, and dryness. There are some serious but rare side effects that you should be cautious of.
This article explores benzocaine wipes side effects, their impact on sperms, people who should avoid using benzocaine wipes, how much benzocaine is safe, benzocaine wipes alternatives, and much more.
What Are Benzocaine Wipes?
Benzocaine wipes (also known as premature ejaculation wipes) are used to delay orgasm and last longer in bed. You need to apply a wipe externally to your penis head and shaft before sexual intercourse. The benzocaine, a local anesthetic, on the wipe reduces the sensitivity of your penis and might numb it leading to delayed ejaculation.
Benzocaine is approved by the FDA for use in premature ejaculation wipes to help men overcome premature ejaculation (PE) and last longer during sexual activity. Benzocaine in low concentration doesn't numb your penis. It will reduce sensation and stimulation which gives you extra time and you don't reach climax as quickly as you normally do.
How Long Do the Effects of Benzocaine Last?
Benzocaine effect lasts anywhere between 30 to 60+ minutes depending on its concentration.
The maximum allowed concentration for PE wipes by the FDA is 7.5% in water soluble solution. Not all delay wipes use the same benzocaine percentage. For example, Promescent PE Wipes use 7.5% benzocaine while REX MD Wipes have 4% benzocaine. Wipes having higher concentration work quickly and they last much longer than wipes with low benzocaine concentration.
If you will use a single wipe on your penis, its effect should last 15 to 30+ minutes. You can use more than one wipe at the same time to increase its effectiveness.
You need to apply a benzocaine wipe at least 5 to 15 minutes before intercourse so that it gets time for absorption. Benzocaine has a rapid onset of action which is usually under a minute as reported in this study. But it is a good idea to wait and let it dry and absorb so it doesn't pass onto your partner.
Benzocaine Wipes Side Effects
Benzocaine wipes have several common and rare side effects that you must be well aware of when using them for delaying orgasm.
Common Side Effects of Benzocaine Wipes
The following common side effects are likely to occur in 1 out of 10-100 men who use benzocaine wipes:
Skin rash, itching, burning, and stinging
Skin redness and tenderness
Dryness and white flakes.
Serious Side Effects of Benzocaine Wipes
The following rare side effects are uncommon and usually appear in 1 out of every 1,000-10,000 men:
Severe skin burning at or around the application area
Dizziness
Fever
Headache
Body aches and muscle pain
Heartbeat fluctuation
Difficulty breathing, seeing, and walking
Unusual bleeding from any body part
Weakness and tiredness
Change in skin color
Inflammation.
If you experience one or more of these side effects or any other symptom after using benzocaine wipes, consult a doctor immediately and stop using PE wipes.
However, the probability of suffering from a negative effect is quite low. Most men (and their sex partners) don't suffer from any major negative effects after using delay wipes.
Do Benzocaine Wipes Affect Your Partner?
Yes, benzocaine wipes affect your partner. The numbing effect can be passed onto your sex partner's vagina or mouth if you do not wash your penis before sexual activity. You can avoid transmitting benzocaine to your partner if you use wipes correctly and with care.
You need to follow the directions from the manufacturer to avoid numbing your partner. Follow these steps to use benzocaine wipes correctly and avoid affecting your partner:
Apply premature ejaculation wipes 5 to 15 minutes before sexual intercourse. This means you have to wait for at least 5 minutes after applying the wipe on your penis before you get to business
Let the benzocaine absorb completely and let your penis dry
Wash (wipe off) your penis with water before sexual intercourse. This is necessary to avoid passing the effect to your partner.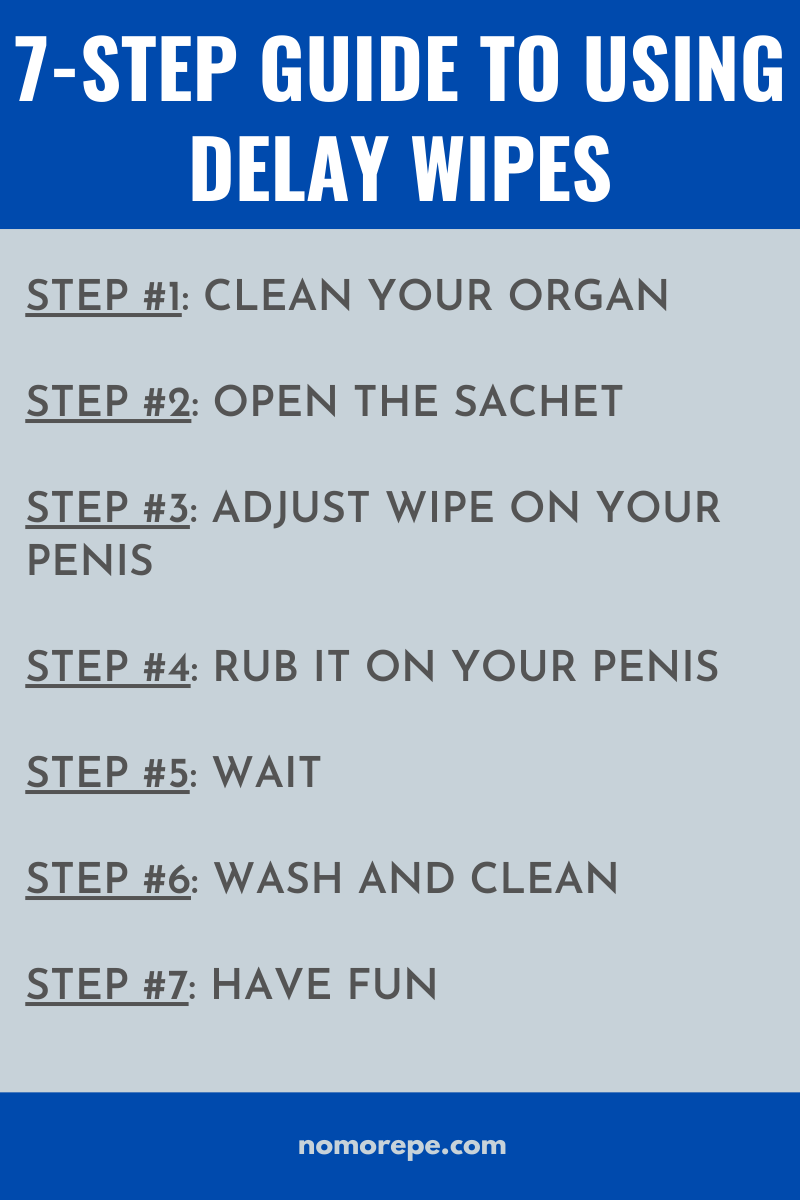 If this sounds too complicated or if you don't want sex to be ruined by waiting and then washing your penis, the best you can do is use a latex condom as soon as you apply the wipe. This will not transmit benzocaine to your partner.
Make sure you are using a premature ejaculation wipe that is compatible with condoms. Check out this list of the leading PE wipes with condom compatibility status.
Does Benzocaine Affect the Heart?
Yes, benzocaine might affect your heart. Several rare side effects of benzocaine are linked either directly or indirectly to your heart.
For example, changes in heartbeat and difficulty in breathing are rare but known side effects of topical benzocaine.
A study reported that benzocaine might cause methemoglobinemia and decreased lung function. Methemoglobinemia is a blood disease where tissues in your body do not get enough oxygen and you feel constant headache, seizures, weakness, and difficulty in breathing.
If you notice, most of the side effects of benzocaine are the symptoms of methemoglobinemia. Your body doesn't get enough oxygen which also impacts your heart functioning as the heart can't give its 100% if it doesn't get enough oxygen.
This is, however, linked to an excessive use of benzocaine wipes. This is a reason why the FDA has capped benzocaine concentration for male genital desensitizers to 7.5% so you don't suffer from such severe side effects.
Is Benzocaine Safe for Sperm?
Yes, benzocaine is safe for sperm and doesn't impact sperm health or pregnancy.
Studies have shown that benzocaine doesn't harm sperm or semen. However, you should always check the label and consult your doctor.
Since premature ejaculation wipes don't require any prescription and most men buy them online, in such a case, you can use benzocaine wipes without any fear. You can use benzocaine wipes if you are trying to conceive.
Who Shouldn't Use Benzocaine?
Men who have breathing issues, asthma, heart issues, bronchitis, and methemoglobinemia. If your partner is suffering from one of these medical problems, you should avoid using benzocaine wipes.
If you or your partner are allergic to benzocaine, avoid using benzocaine wipes.
Elderly men are also more likely to experience side effects of benzocaine so they should avoid using it.
Benzocaine wipes side effects are more likely to appear in individuals who have one or more of the following medical conditions:
Methemoglobinemia
Asthma
Known heart disorders
Breathing issues
COPD (chronic obstructive pulmonary disease)
Any lung disorder.
Are Benzocaine Wipes Safe?
Yes, benzocaine wipes are safe to use.
The maximum concentration allowed by the FDA is 7.5% which keeps its intensity low and safe for daily use. If you are using a benzocaine wipe that has no more than 7.5% benzocaine, you can use it with peace of mind.
Benzocaine in low quantities is safe to use and 20% is considered to be safe according to a study. In the case of benzocaine wipes, you'd not find more than 7.5% concentration so there isn't any harm associated with using PE wipes.
How Much Benzocaine is Safe?
You should use a PE wipe that has a maximum of 7.5% benzocaine. This is the quantity approved by the FDA for PE wipes and it is safe.
And you shouldn't use more than 3 PE wipes per session and no more than 10 delay wipes per 24 hours.
The most important thing to note when buying and using a benzocaine wipe for lasting longer in bed is that it should have a 7.5% or less benzocaine concentration.
Best Benzocaine Wipes
Here are the best benzocaine wipes that contain 7.5% or less benzocaine:
Benzocaine Wipes Alternatives
Herbal premature ejaculation wipes are the only alternative to benzocaine wipes. Only herbal and benzocaine wipes are approved by the FDA and are safe to use.
So, herbal wipes are the only option you have if you are not interested in benzocaine wipes for their side effects or if you are allergic to benzocaine.
Herbal wipes for premature ejaculation are made of natural ingredients such as plant extracts, herbs, spices, etc. The reduction in sensitivity and stimulation isn't too strong and this makes herbal wipes ideal for men who have sensitive skin and for those who don't like getting their penis completely numbed during intercourse.
When your penis gets numbed, you lose sensation and this makes it hard to enjoy sex. It seems more like an exercise.
Herbal wipes also cure premature ejaculation naturally by strengthening your ejaculatory muscles and reflexes.
The two leading herbal wipes are:
VigRX Delay Wipes: It has a non-numbing natural formula that helps you last longer in bed without losing stimulation. It costs $1.78 per wipe. Buy VigRX Delay Wipes.
Peineili Delay Wipes: It has a natural numbing formula. It uses clove extract that has a very mild numbing effect on your penis. The price per wipe is $0.62 making it one of the cheapest delay wipes. Buy Peineili Delay Wipes.
Final Words
Benzocaine wipes are safe to use and have no major side effects. Skin rash, itching, and redness are the most common side effects of benzocaine wipes.
If you are planning to use benzocaine PE wipes, make sure the concentration is 7.5% or less. Almost all the delay wipes sold in the USA follow FDA guidelines and have not exceeded the 7.5% threshold.
If you or your partner are allergic to benzocaine or have a known heart problem, asthma, lung problem, or methemoglobinemia, you should avoid using benzocaine wipes. In this case, switch to herbal wipes that are free from side effects and are much safer.
Updated: May 3, 2023