Delay wipes are an effective way to treat premature ejaculation (PE). You can choose between benzocaine and herbal wipes to last longer in bed. Clockstopper Climax Delay Wipes by Hims is a popular option for men who are interested in delaying orgasm.
Do Clockstopper Wipes work?
Yes, it does a good job of delaying climax and we recommend it. Buy Clockstopper Wipes here if you are interested.
Or, read the full Clockstopper Climax Delay Wipes review below.
What Are Clockstopper Climax Delay Wipes?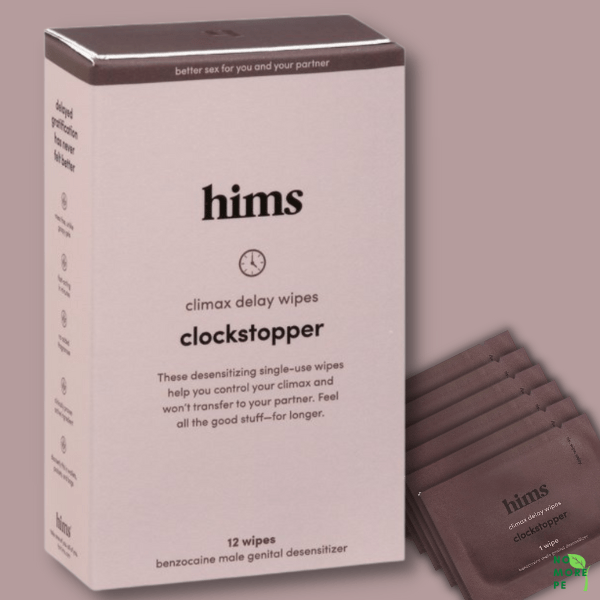 Clockstopper Climax Delay Wipes are manufactured and sold by Hims which is a leading US-based telehealth platform for men. It offers online health services across multiple areas to men in the 50 states. You get access to licensed healthcare professionals that guide and prescribe you solutions to your medical conditions.
The Clockstopper Wipes by Hims has 7% benzocaine which is well under the FDA allowed concentration of 7.5% as mentioned here. Benzocaine is a local anesthetic that is approved by the FDA for use in male genital desensitizers including premature ejaculation wipes (with a cap of 7.5% maximum concentration).
You don't need a prescription to buy Clockstopper Climax Delay Wipes. And it is delivered in discreet packaging.
How Clockstopper Climax Delay Wipes Work?
Hims Clockstopper Wipes work by minimizing the sensation and stimulation in your penis which leads to delayed ejaculation.
Benzocaine numbs your penis by blocking nerve signals in the skin from reaching your brain. This results in a significant delay in initiating the ejaculatory reflex by your brain (which is a natural response to stimulation). The ejaculatory reflex kicks in orgasm and makes you ejaculate. When it is delayed, it leads to a delay in the climax.
How Long Do Clockstopper Wipes Work?
Clockstopper Wipes last 30 to 60 minutes depending on how many wipes you have applied and where and how you have applied them. Benzocaine wipes, generally, last up to an hour if used correctly.
It has a high concentration of benzocaine (7%) so a single Clockstopper wipe is expected to last at least 30 minutes and this can go as high as an hour or more if you use more than one wipe.
For better results, you should use wipes correctly. Apply the wipe at the penis head and shaft and ensure that all the liquid is fully applied to your penis. Then let the benzocaine absorb and dry. You should wait 5 to 15 minutes after applying Clockstopper Wipes to your penis.
Clockstopper Wipes Side Effects
Clockstopper Delay Wipes have a few common side effects that include:
Skin burning, rash, and itching
Complete or partial loss of sensation leading to loss of erection
Dryness and flaking.
Benzocaine wipes have some rare side effects that you should be cautious of:
Intense skin burning and itching
Fever
Body ache
Muscle pain
Dizziness
Heartbeat issues
Lung disorder
Difficulty in breathing
Weakness and tiredness.
Excessive use of benzocaine can lead to methemoglobinemia which is a blood disorder that impacts the working of red blood cells. Your body cells and tissues receive less oxygen which leads to severe medical problems.
However, this is rare and is associated with excessive use of benzocaine, and is more likely to happen in men who already have a known medical condition.
Generally, Clockstopper Wipes are safe to use.
Clockstopper Wipes Price
A single pack of Clockstopper Delay Wipes is priced at $22. It comes with 12 wipes. The cost per wipe is $1.83 excluding shipping cost.
Hims also offers a subscription model where you receive 2 packs (24 wipes) every 3 months priced at $21.67 per month. You also have to pay a $5 processing fee which is a one-time fee for subscription service. The price per wipe with the subscription plan is $2.91 for the first month and it goes down to $2.71 for subsequent orders without a processing fee.
A one-time purchase of 12 wipes pack is a cheaper option than the subscription model.
Clockstopper Delay Wipes Pros and Cons
Pros
A premature ejaculation wipe manufactured by a leading telehealth brand
Benzocaine used as per FDA guidelines
High benzocaine concentration makes it quite effective in delaying orgasm
No prescription is needed to buy wipes
Services available in 50 US states
Discreet packaging ensures your parcel is delivered confidentially
You can choose a subscription service to receive the desired number of wipe packs every month without having to place a new order.
Cons
The cost per wipe is high making Clockstopper Wipes an expensive option
You don't get free shipping service
There is a one-time $5 fee for the subscription plan making it even more expensive
No money back guarantee is offered.
How to Use Clockstopper Wipes
Follow these steps to use Clockstopper Climax Delay Wipes:
Wash your penis with water before applying a wipe. The effectiveness increases significantly when you use a delay wipe on a clean penis
Open a wipe and rub it gently on your penis head and shaft. Squeeze the wipe and make sure all the liquid is applied to the penis
Gently massage your penis with a focus on its head and shaft to evenly distribute and absorb wipe's constituents
Wait for a few minutes and let the benzocaine dry completely. Hims recommends waiting 5 to 15 minutes so make sure you wait at least 5 minutes after applying a wipe to your penis
Wash your penis with water before sexual intercourse. After 5 minutes, when the benzocaine is dried, you need to either wash your penis or wipe off to remove the benzocaine to avoid transmitting it to your partner
Have sexual intercourse as normal
Wash your penis with soap and water after sexual intercourse.
How many Clockstopper Wipes should you use?
It depends. You need to experiment and see what works for you. Ideally, you should start with a single wipe and see how effective it is. If you don't get desired results, switch to two wipes.
Remember, more wipes mean more benzocaine on your penis which will increase the numbing effect significantly.
Clockstopper Climax Delay Wipes Reviews
Clockstopper Wipes have decent reviews on the official Hims website, but you can't read reviews. You can only see star ratings which show it has a 4.5 rating from 129 customers.
There are only 2 5-star reviews on Amazon.
Walgreens has a 4.3 rating based on 93 customer reviews while Walmart has also a 4.3 rating based on 105 customers.
Overall, the rating comes down to 4.5 out of 5 which is quite impressive.
Buy Clockstopper Climax Delay Wipes.
Clockstopper Delay Wipes Alternatives
Here are the benzocaine wipes that are the best Clockstopper Wipes alternatives:
1. Promescent Delay Wipes
Promescent is a leading US company that manufactures and sells sex enhancement products. Promescent Delay Wipes contain 7.5% benzocaine making it stronger than Clockstopper Climax Delay Wipes.
The cost per wipe is $2.48 which is much higher than Clockstopper. Promescent is expensive but it offers you 60 days money back guarantee, free shipping in the USA, and discreet packaging. These features come at an extra cost.
2. Roman Swipes
Roman Swipes are manufactured and sold by Ro, which is a telehealth company for ED, fertility, and other medical issues. The Roman Swipes have 4% benzocaine with a price tag of $2.40 per wipe. It offers you discreet packaging and a subscription pricing model that lets you get a new wipes pack delivered every month to your doorstep.
3. REX MD Performance Wipes
REX MD is a telemedicine company for men that ships sexual medicines discreetly to its customers. The REX MD Performance Wipes have 4% benzocaine and a single wipe costs $0.79 making it one of the cheapest benzocaine wipes for men. It doesn't offer a money guarantee, but the wipes are delivered in discreet packaging.
Shop REX MD Performance Wipes.
4. VigRX Delay Wipes
VigRX Wipes are non-numbing delay wipes manufactured by Leading Edge Health which is an herbal supplement manufacturing company. VigRX Delay Wipes are made from herbal ingredients that don't numb your penis, rather give you the strength to control and delay ejaculation and ejaculatory reflex.
The cost per wipe is $1.78, that's quite competitive. The wipes are delivered in discreet packaging and you get 67 days money back guarantee.
FAQs
Are Climax Delay Wipes Safe?
Yes, climax delay wipes are safe as long as it doesn't exceed the allowed benzocaine concentration which is 7.5%. Benzocaine has a few common side effects such as skin rash and irritation while herbal delay wipes have no known side effects. So, you are OK to use climax delay wipes.
Do Numbing Wipes Work?
Yes, numbing wipes work and help you last longer in bed. The FDA has approved benzocaine and herbal delay wipes for male genital products for the treatment of premature ejaculation.
How Do You Use Clockstopper Wipes?
Follow these steps to use Clockstopper Delay Wipes:
1. Wash your penis with water.
2. Apply a wipe on the penis head and shaft.
3. Gently massage your penis to absorb and distribute ingredients.
4. Wait at least 5 minutes and let the ingredients absorb.
5. Have sexual intercourse.
6. Wash your penis after intercourse.
Final Words on Clockstopper Climax Delay Wipes
Clockstopper Wipes by Hims is an effective way to cure premature ejaculation. You can use these wipes to last longer in bed even if you are not suffering from PE or any other medical condition. The wipes are generally safe to use. In case of any severe side effect, consult a medical expert immediately and discontinue use.
With a price of $1.83 per wipe and discreet packaging, you don't lose anything when trying Clockstopper Delay Wipes. Give it a try today and see how it works for you.