Delay sprays are one of the best ways to cure premature ejaculation. These numbing sprays numb your penis and help you last longer in bed. Research shows that using lidocaine spray 10-20 minutes before sexual intercourse increases ejaculation time 2.4-8 times. Numbing sprays are indeed effective but how long does a delay spray last and how often do you need to use it?
If you are curious about the lasting duration of a delay spray, this article is for you. It covers everything you need to know about the lasting duration of a delay spray.
How Long Does a Delay Spray Last?
An average delay spray lasts between 1-3 hours. This means once you apply numbing spray on your penis, it will keep your penis insensitive for at least one hour. Most delay sprays remain active for more than an hour.
The exact duration of a numbing spray depends on the active ingredient being used, how much you use it, where you use it, and your sensitivity level. Several factors impact the duration of a delay spray.
The most important factor is none other than the numbing agent used. Lidocaine, for example, lasts for up to 2 hours.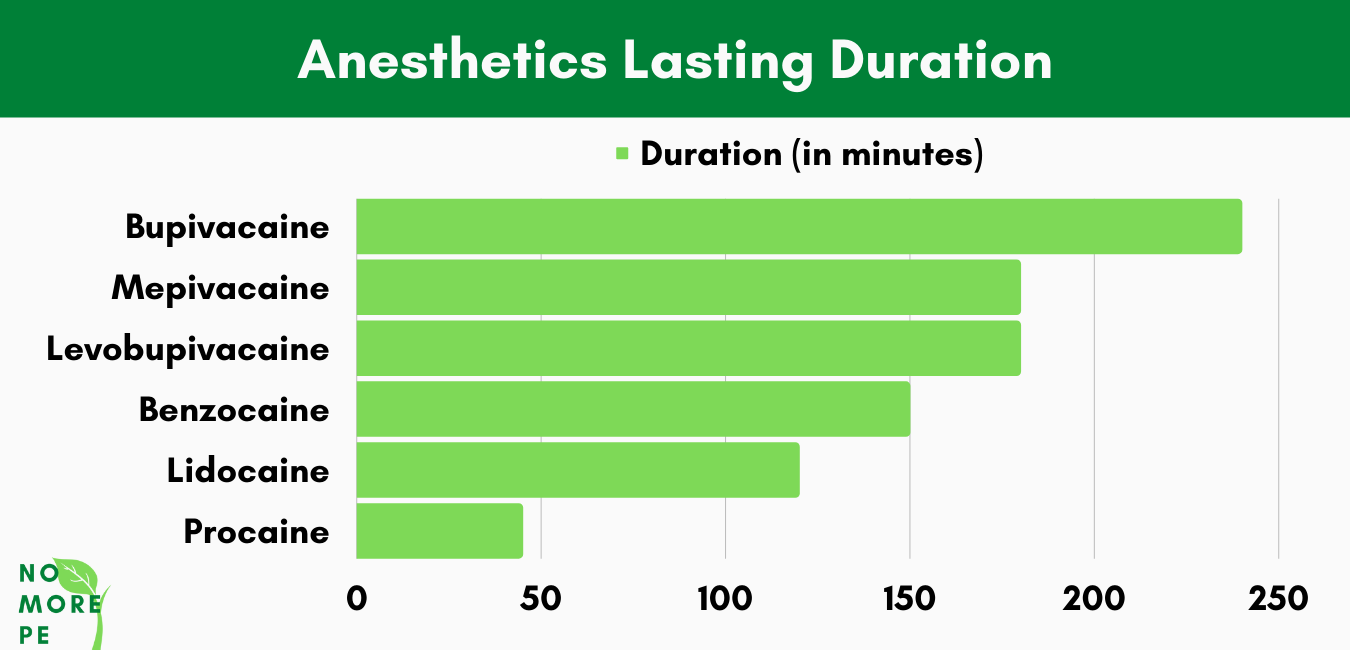 📖 Suggested Reading for You: 5 Best Delay Sprays to Cure Premature Ejaculation
The Average Increase in Ejaculation Time After Using a Numbing Spray
Several studies show that delay sprays increase ejaculation time between 6-11 minutes. The effect of a numbing spray can be as high as 8x and with a satisfaction rate of 82% in men.
One study found that using delay spray before sexual intercourse improves sex quality by 2.4 times. Delay sprays aren't just limited to boosting ejaculation time but they have other positive impacts too on your sexual performance such as sexual satisfaction, sex quality, partner satisfaction, sexual performance, and more.
Lidocaine Vs. Prilocaine
Lidocaine and prilocaine are local anesthetics that are used in numbing sprays.
Both these ingredients work in the same way by infiltration, peripheral nerve blockages, and anesthesia. Prilocaine is slightly less effective than lidocaine in terms of vasodilation (widening of blood vessels). Prilocaine is less toxic than lidocaine but it may lead to methemoglobinemia (a blood disorder where an abnormal amount of hemoglobin is produced).
Lidocaine, on the other hand, is one of the most used numbing agents in delay sprays. It has no significant known side effects and is an effective anesthetic that does a great job of reducing the sensitivity of the penis once applied even in small quantities. Lidocaine has more efficacy and less toxicity as compared to prilocaine.
In a study, men with PE went from an average intravaginal ejaculation latency time (IELT) of just 84 seconds without the lidocaine spray to 11 minutes and 21 seconds with it. The men who used the lidocaine spray did not report any side effects on their sexual experience.
Benzocaine delay spray is also used commonly and it is as effective as lidocaine with minimal side effects.
📢 More from Our Blog: Best Lidocaine Spray For Premature Ejaculation and What is Benzocaine and How it Cures Premature Ejaculation.
How to Increase Delay Spray Effectiveness
The lasting duration of a delay spray has no relation with its effectiveness. A delay spray that lasts for hours doesn't necessarily mean it will help you increase ejaculation time and last longer in bed.
Your ultimate goal is to increase your ejaculation time irrespective of how long does a delay spray last, right?
And the good news is: You can use different tips, techniques, and best practices to increase the effectiveness of a numbing spray so that it actually delays ejaculation and helps you last longer in bed:
Tip #1
Wash your penis before applying delay spray. While it isn't necessary, it is a good idea.
Washing your penis with water will remove debris that will improve numbness. For example, if you applied some oil or cream on your penis that is still there, it won't let delay spray do its work. This is why washing your penis could make a huge difference in the effectiveness of the numbing spray.
But I understand that it isn't always possible to wash your penis before sex or use a delay spray. Not all sexual intercourses are planned so it gets hard to go to the washroom before sex to clean your penis.
Doesn't sound romantic.
But if you can, wash your penis for hygienic reasons too.
Tip #2
Applying spray at the right spot is essential to make it work. Ideally, you must apply spray on the penis head and shaft as these are the parts you want to numb. Spray throughout the penis and avoid spraying on testicles or other areas as it is of no use.
Some delay sprays want you to equally distribute spray on your penis. A gentle massage is required. But it isn't necessary as it will numb your hand too if you won't wash it immediately.
Spraying is more than enough.
Tip #3
You must wait for a few minutes after applying delay spray to let it do its work. Don't involve in sexual intercourse or even foreplay if you don't feel the numbness in your penis.
Waiting at least 10 minutes after using delay spray is recommended. If your penis isn't numb, you won't be able to delay ejaculation significantly. Involve in sexual intercourse once you can feel the numbness in your penis. It will give you the best result.
Use the Best Delay Spray that Lasts Longer
If you are interested in the lasting duration of the numbing spray and want it to last longer, go for VigRX delay spray.
Why?
Because it lasts longer than other delay sprays and this is because it uses benzocaine as opposed to lidocaine. Benzocaine acts in the same way as lidocaine but has no side effects and it lasts much longer. You can read more about benzocaine here. You can read the in-depth VigRX delay spray review here to better understand how it works.
VigRX delay spray works in 10 minutes and helps you last much longer in bed by delaying ejaculation. A delay spray like this is ideal for men who want to exponentially increase their ejaculation time (not in seconds but minutes).
Updated: September 26, 2022