If you're an early shooter and discharge quickly, then your solution might be in the kind of condoms you use. What are the reasons for using condoms to delay ejaculation? We'll get to learn in this article.
Premature ejaculation causes a lot of insecurity in relationships. Most men may begin to entertain the fear of being unable to satisfy their partners:
This fear is common among men who reach orgasm faster than their partners. While women can enjoy multiple orgasms in one sex session, men can do no more than one at a time. And regaining arousal takes more effort and time.
What is a Premature Ejaculation Condom?
Conventional condoms aren't designed to reduce sensation. Their primary function is to protect you from unwanted pregnancies and sexually transmitted diseases. But then, some condoms are designed to help enhance your stamina and delay ejaculation.
Condoms that are designed to delay ejaculation are called premature ejaculation condoms or climax control condoms. How do premature ejaculation condoms help to delay ejaculation?
Well, these condoms have a gentle numbing effect on the tip of your penis. The numbing effect isn't permanent and can desensitize sensitive areas on your penis.
There are over 4,000 nerve endings on the head of your penis. These nerves are usually stimulated when you are having sex. And if you must know, overstimulation is a factor. So, with a temporary numbing agent, some of those nerve endings can be shut off temporarily so that you can spend more time under the sheets.
📖 Suggested Reading for You:
7 Reasons for Using Condoms to Delay Ejaculation
Why should you be using delay condoms? What's in it for you? Why can't you just use conventional condoms?
Well, there are several good reasons for using condoms to cure premature ejaculation:
1. It Helps Cure Premature Ejaculation
Here's the thing – urologists say that men are naturally wired for quick releases. But then, using condoms, no matter how thin, can minimize some sensations and delay orgasm. Condoms used to delay ejaculation have some benzocaine at their tapering end. This benzocaine numbs the head of your penis and reduces the stimulation of the nerves in it. This helps to prolong your sexual experience.
2. Better Sexual Pleasure
One of the biggest myths about using condoms is that it makes sex less pleasurable. Nothing could be farther from the truth than this.
Here's the thing – barriers like condoms make sex more pleasurable. If you have thoughts about getting pregnant or contracting an STI, the sex automatically becomes less pleasurable.
After all, there's no pleasure block greater than stress.
Wearing a condom will help you think less about the risks of your adventure, and instead, focus on all the fun you can at that moment.
What's more? Many condoms have dotted or ribbed detailing, which improves sensitivity.
Also, for people with latex fetishes, the latex intensifies the pleasure more quickly than ever.
3. They're Sexy
Another reason for using condoms to delay ejaculation is that they're sexy.
How?
While you may be particular about protection, pleasure also matters. The good news is that condoms provide both protection and pleasure.
Condoms are available in different shapes, textures, and styles, and they boost sensation for both you and your partner. Nothing feels as sexy as having your partner wear the condom on your penis. That's a secret tip for mind-blowing foreplay you know?
And not to mention that they delay ejaculation, which makes the sex even more mind-blowing.
Condoms can be used for vaginal, anal, and oral sex. This means that you've been covered by STDs no matter how you'd want to go down.
4. No Side Effects
Most people have no problem using condoms – because it has no side effects. Latex condoms, in rare cases, can irritate those who have latex sensitivities or allergies. In some cases, the lube on some condoms can be irritating.
If you have a latex allergy, why not use plastic condoms or switch brands? Condoms made from nitrile, polyisoprene, and polyurethane are latex-free.
5. Cost-Effective
Yes. Local health departments give out external condoms for free.
The same goes for walk-in medical centers and local college health centers. But we can't say the same for an IUD or oral birth control, can we?
6. Easy to Clean
Absolutely! Even partners (couples) who are using other forms of contraception, are fluid-bonded, or have no problems with getting pregnant, do make use of condoms when they have very little to no time on their hands.
You see, with condoms, post-quick cleanup is easier.
Your partner will not have to worry about cleaning the semen out of their body all day. That's nice, isn't it?
7. Birth Control
Condoms give you that extra protection against unintended pregnancies. You see, there's no foolproof method of preventing pregnancies, but backing up your birth control lineup with condoms helps you to prevent pregnancy if there's an error. Condoms enhance other birth control methods like a shot, the pill, IUD, rings, and implants. However, you mustn't wear more than one condom at a time. One is okay.
What is the Best Condom to Delay Ejaculation?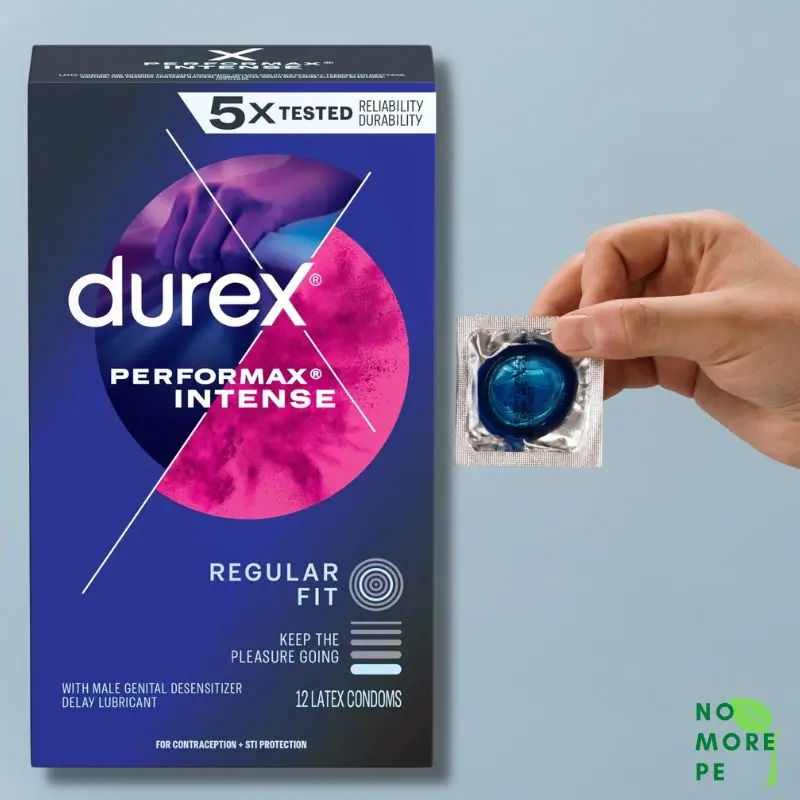 There is only one brand I can recommend, and that's Durex Condom Performax Intense Natural Latex Condoms.
Why will you love this brand?
Well, Durex is designed to intensify your partner's sensitivity and slow down your urge to release. So, this makes you last longer while ensuring that your lady moans ecstatically. Durex Performax Intense condom is ribbed, lubricated, and dotted, to intensify sensation.
It is also coated with a unique delay lubricant that boosts your performance under the sheets, allowing you both to enjoy an intense experience.
To enjoy maximum benefits, you must adhere to the usage instructions that come with the pack.
Special features of Durex Performax are:
Each condom is tested electronically for reliability, flexibility, and strength
It has an easy-on shape that makes it easy to put on. You also feel comfortable wearing it
There are dots and ribs on the condom for your lady and a delayed lubricant for you to give you both extended pleasure
Durex Performax, like all other Durex products, is made in a special way to give it a pleasant smell
No brand surpasses Durex! It's been around for no less than 80 years.
Updated: August 13, 2023