Lasting long in bed is the dream of every man. But the problem is identifying how long is considered enough. How long should a man last before ejaculation to satisfy his sexual partner and what is the average ejaculation time that you should be aiming for?
Ejaculation time commonly known as timing has a valuable place in your relationship and sex life. If your timing is too short, it won't satisfy your partner and this can lead to several issues. On the other hand, if your ejaculation time is too long, it will create problems for you because your sex partner will ejaculate and lose interest in sex. And you'll need more time.
This article covers how long should a man last before ejaculation, what factors influence your timing, the average sex duration, and techniques to increase sex timing.
Let's get started…
How Long Should a Man Last Before Ejaculation?
The average ejaculation time is approximately 5 minutes and 30 seconds. And it varies from person to person according to the degree of sexual stimulation received.
It is considered normal to deviate up to 7 minutes from the average. Sex that lasts between 1 and 15 minutes is considered normal.
A group of researchers asked a group of sex therapists how long sex should last, here is how they responded:
1-2 minutes: Too short
3-7 minutes: Adequate
7-13 minutes: Desirable
10-30 minutes: Too long.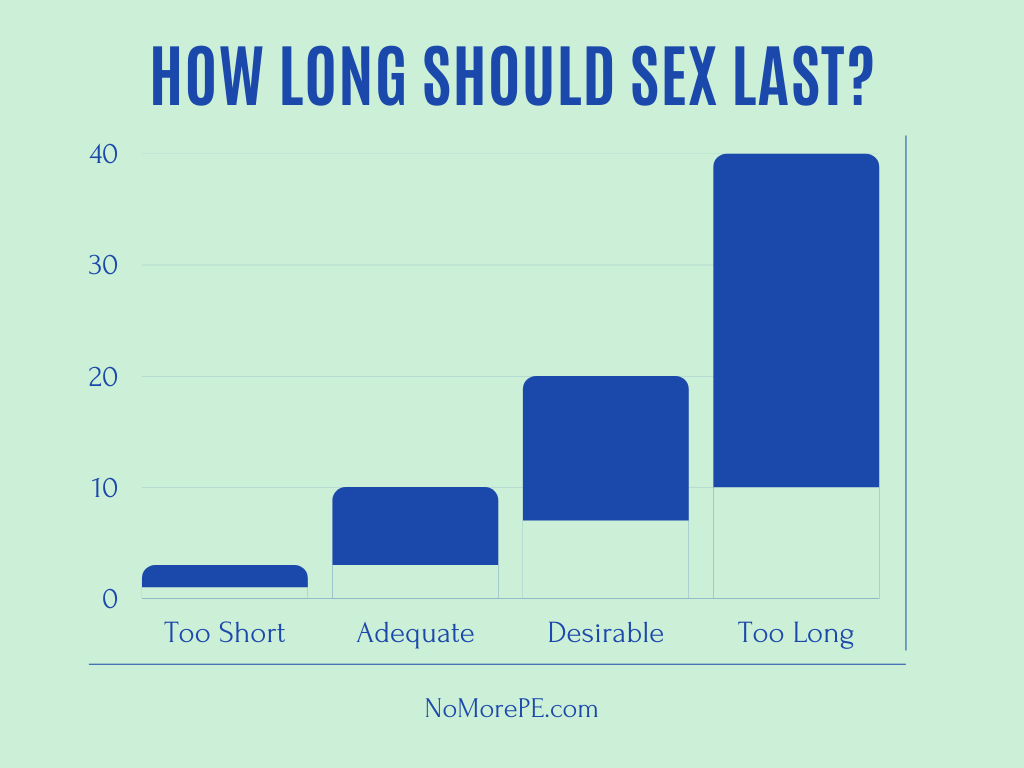 Here are the results from 3 different studies that show the average length of sex duration: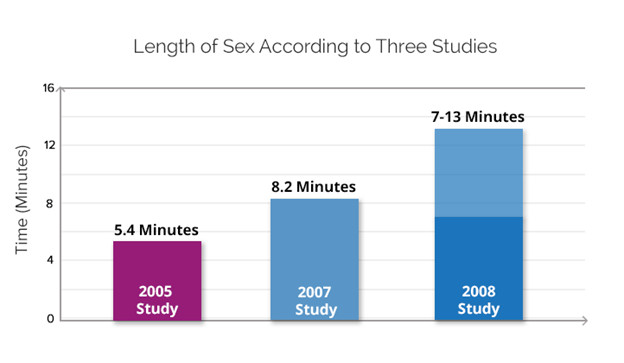 Most men last up to 5 minutes and that's considered fairly normal and OK. However, the problem is that an average woman reaches orgasm in at least 20 minutes:
And this is where it gets complicated. You will be lasting far longer in bed than the average men but it might not satisfy your sex partner. So, you should long as much as your partner wants. If she satisfies in 3 minutes, great.
If she is satisfied in 25 minutes, try increasing ejaculation time. If you won't, your relationship might be at risk. Research shows that 23% of women experienced breakups due to ejaculation-related problems: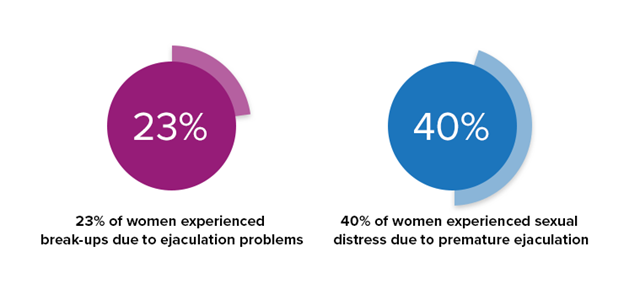 Forget numbers and average sex duration, focus on satisfying yourself and your partner. If she needs more time, give her more time. That's it. You can't tell her:
Baby, the average ejaculation time is 5 minutes and I'm already ejaculating in 7 minutes…
This is ridiculous.
Give her what she wants. She has all the options to move to someone else. You have tons of products available to choose from.
🎁 Check out these resources to increase ejaculation time: Delay sprays, delay pills, delay wipes, and delay condoms.
Factors Affecting Ejaculation Time
Ejaculation time is variable. There are certain factors that aren't under your control such as age that has a direct association with ejaculation time.
Here is a list of the factors that impact ejaculation time:
Age
Aging affects the male reproductive system as atherosclerotic changes in the penis vessels lead to decreased blood flow. Muscle mass and elasticity also decrease with time. These factors lead to penile dysfunction and low levels of erections.
Penis Shape and Size
Blood flow is an important factor in achieving an erection. Penis shape and size affect the amount of blood flowing through your penis vessels. A large penis requires more blood to maintain erection and vice versa.
Penis Hypersensitivity
Your penis has nerve endings. Overstimulation and decreased threshold levels lead to early discharge and erectile problems. Most of the men suffer from unknown origin of early ejaculation problems among which hypersensitivity is the major contributing factor.
Anxiety and Depression
Men with low serotonin levels in their brains may have problems with anxiety, depression, and premature ejaculation. Most of the patients with premature ejaculation also have problems with anxiety — either specifically about sexual performance or related to other issues.
Erectile Dysfunction
You are in danger of early ejaculation in case you sometimes or always have problems getting or keeping an erection. Fear of dropping your erection would possibly cause you to consciously or unconsciously hurry through sexual intimacy.
Traumatic Experience
Trauma can be one of the main causes of premature ejaculation and it can often be relatable to previous trauma, such as:
Strict sexual teaching and upbringing
Negative childhood experiences
Traumatic experiences of sex
Traumatic injury to sexual organs leading to nerve damage.
Techniques to Increase Sex Duration
Increasing sex duration and lasting longer in bed is a wish of every man in this world. Thanks to techniques and products that help you do so naturally without any side effects.
Before we move towards the techniques and methods to last longer in bed, let me clarify who should use these techniques. The following two types of men need to use these methods to improve sex duration:
Your ejaculation time is less than a minute
Your ejaculation time is more than 1 minute but you can't satisfy your partner.
Remember, it is more about satisfying your sexual partner than looking at the clock. If you can't satisfy her irrespective of how long you last in bed, increase the time.
Here are proven methods and techniques to increase sex duration:
Delay sprays help you increase ejaculation time by 15-25 minutes. Check this delay spray that will increase ejaculation time in as low as 10 minutes
Delay wipes work like delay sprays. Here is a list of the best delay wipes under $30
Squeeze technique is an effective behavioral method to increase ejaculation time. Squeeze your penis with your hand when you are about to ejaculate. Keep it pressed until the feeling to ejaculate diminishes. Start sex again and repeat the process. Read more about squeeze technique here
Delay gels and creams are also useful in increasing sex time. These gels use a numbing agent that numbs your penis and helps you delay ejaculation significantly
Benzocaine condoms work best as they slightly numb your penis that helps you last a lot longer in bed. Read more about benzocaine here and check out 3 best benzocaine condoms
Delay oils work like other delaying products. Check out this delay oil for amazing results
Exercise turns out to be one of the best and long-term techniques to last longer in bed. Doing pelvic floor exercise regularly will help you increase ejaculation time by making your pelvic floor muscles strong. Click here to read more about pelvic floor exercise and how to do it
Delay pills are your best bet if you want to keep your technique hidden from your sex partner. Order your favorite pill online without a prescription, use it regularly, and you'll be surprised to see the results. Here is the list of the 10 best pills to last longer in bed
Start-stop technique is another behavioral technique to improve ejaculation time. When you are about ejaculate during vaginal sex, stop immediately, and don't move your penis. Don't move it for at least 30 seconds. When the ejaculation feeling goes away, you can start again. Repeat it multiple times as per need and control ejaculation. 
Timing Doesn't Matter, Satisfaction Does
It all comes down to how satisfied you and your sex partner are with the sexual activity.
If both of you are satisfied with a minute's sexual activity, that's absolutely fine. You don't have to worry. Love your partner and live a happy life.
If even 30 minutes of sex doesn't satisfy either you or your lady or both, you need to work on improving timing. Spend more time in bed. Try satisfying your sex partner.
Remember, satisfaction is the key to sex and a healthy relationship. Focus on satisfaction and not just timing.